Frozen rolls from Bridgford – 2 in each muffin tin cup rolled in olive oil, Italian herbs, and garlic salt.
Let rise 2 – 3 hours, then bake @ 375 degrees for 15 minutes.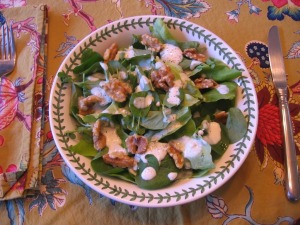 Salad of Roquefort, Walnuts, Belgian Endive & Lamb's Lettuce
From
Patricia Wells at Home in Provence
, page 64. Note, I used Butter Leaf Lettuce in place of Belgian Endive as I don't care for it's bitter flavor. I also used Watercress instead of Mache – although I love Mache as a salad green, it was not available at my local market.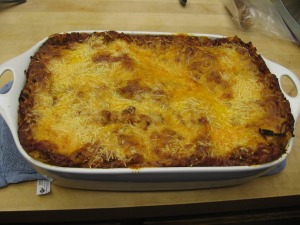 I am a huge fan of pasta made in Italy. I used Barilla Lasagne for this dish.
John and I have polar tastes in wines. We meet in the middle with a good Viognier, and I am learning to like Roses, but for the most part, he is a red wine guy, and I am a white wine gal. So, with my dinner, I enjoyed a glass of light, fruity, effervescent "Fantasia" that we brought home from the most amazing winery in Napa Valley,
Castello di Amorosa
, and he had a great, deep Sangiovesse from Sicily.
Hagen-Dazs Vanilla Ice Cream drizzled with Chocolate Cabernet Wine Sauce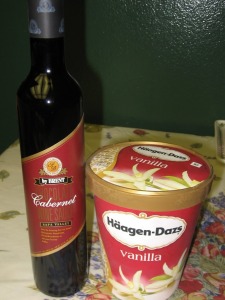 From Anette's by Brent in Napa Valley.
I once read that recipes are like sheet music. Anyone can follow the notes, but only few can make music! So, relax, get into the flow, and enjoy making recipes your own.
These recipes are provided for your personal use. If you publish them, or re-post them, please give me credit. Grazie e Buon Appetito!