"The most indispensable ingredient of all good home cooking: love, for those you are cooking for."
Shredded Pork Burritos
Burritos are one of the perfect foods. They are warm, and filled with all kinds of good stuff. When served at home, they are even better, because everyone can fix them exactly the way they like. This version is easy and delicious! We made them for my brother and sister-in-law for a nice, relaxing Sunday family dinner.

Shredded Pork
Coat a 2 – 3 lb boneless pork loin (or tenderloin) with salt and pepper.
Place in a crock pot and cover with:
1 cup of salsa – we used
Santa Barbara
Roasted Garlic Salsa
1 small can of chopped green chiles
Cover and set crock pot for low heat for 8 hours.
After fully cooked, remove pork loin from crock pot, cut into about 4 pieces width-wise, and shred with a large meat fork.
Return shreded meat to crock pot, stir in sauce, and keep warm.
Mexican Rice
1 10-oz can Ro-Tel
1 1/2 cans Rice
1 cup Rice
Add Ro-Tel and water to medium sauce pan, and bring to a boil. Stir in rice, and return to boil. Reduce heat to low, and simmer for 20 minutes. Let sit for 5 minutes, then fluff with a fork.
Guacamole
There are so many versions of Guacamole, but this my quick and easy recipe. Its great with tortilla chips, or to scoop into your burrito!
4 ripe medium avocados
1/4 cup salsa
1/4 cup sour cream
1/2 tsp Garlic Salt
Juice of 1/2 fresh lime (this not only adds great, fresh flavor, but keeps the guacamole from browning)
Peel the avocados, and remove the seeds.
Add all ingredients in a medium mixing bowl, and smash with a pastry cutter, or potato masher, until well blended.
Taste, and adjust seasoning to your preference.
Don't over-salt as most tortilla chils are sprinkled with salt already.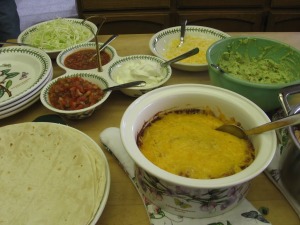 Refried Beans topped with shredded cheddar cheese and baked in the oven at 350 degrees for about 30 minutes.

Flour or corn tortillas – any size. We used burrito-size flour tortillas. Wrap in foil, and heat in the oven for about 15 minutes.

Shredded cabbage – you can find this in the produce aisle, probably labeled for cole slaw. We find that it's crunchier, and holds up to the heat of the other items better than shredded lettuce.

Shredded cheese – you can use any kind you like. A lot of stores have recently packaged a Mexican blend.

Salsa

Sour Cream
Place everything you like in the middle of the tortilla, fold up from the bottom, then fold each side into the middle. Burritos are traditionally picked up and eaten with your hads, but if you over-stuff them, they are easier to eat with a knife and fork!



However you fix them, enjoy your unique creation – just the way you like it!

These recipes are provided for your personal use. If you publish them, or re-post them, please give me credit. Grazie e Buon Appetito!