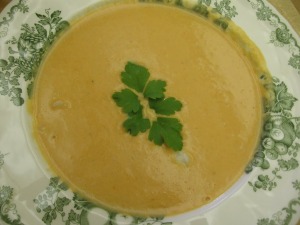 We modified Mary Englebreit's Tomato and Rice Shrimp Bisque recipe (which we love!) to create this velvety Lobster Bisque.
'Tis the Season
, page 30. Reserve some of the Lobster Meat, place in the middle of the bowl, pour Bisque over it, and garnish with Flat-leaf (Italian) Parsley.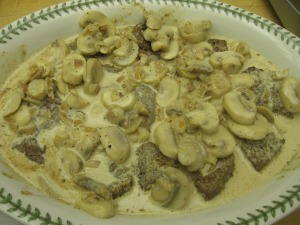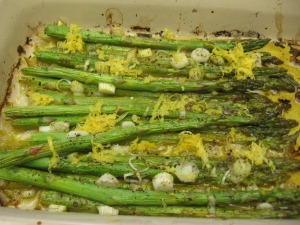 Oven Roasted Asparagus
Pre-heat oven to 400 degrees.
Rinse one bunch of asparagus, and snap off ends.
Drizzle with Truffle Oil and Fresh Lemon Juice.
Sprinkle with 3 Green Onions, sliced.
Sprinkle with Salt and Pepper, to taste.
Bake for 10 – 15 minutes.
Sprinkle with grated Lemon Rind.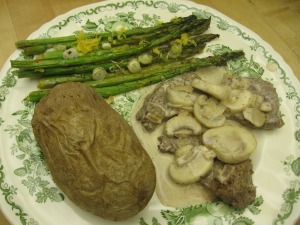 We used our new Speedcooker oven to make perfect Baked Potatoes.
Garnish with your choice of:
Butter
Sour Cream
Grated Cheese
Bacon Bits
Fresh Chives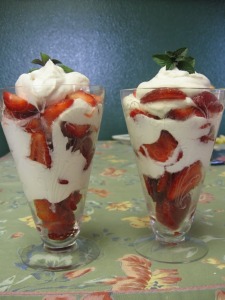 Rinse and slice 1 pint Fresh Strawberries.
In a stand mixer with a wire whisk attachment, whip:
1 Cup Whipping Cream
1 teaspoon Vanilla Extract
1/4 Powdered Sugar
until stiff peaks form.
In parfait glasses, alternate layers of Strawberries and Whipped Cream. Garnish with Chocolate Mint.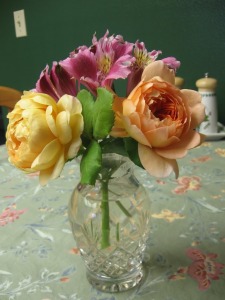 David Austin English Roses "Golden Celebration" and "Carding Mill" with Alstroemeria
from our garden.
These recipes are provided for your personal use. If you publish them, or re-post them, please give me credit. Grazie e Buon Appetito!