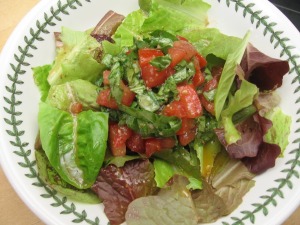 Spring Greens with Checca
Add:
Shake, and let sit at least 15 minutes to give flavors a chance to blend – shaking a few more times.
Fill bowls with fresh Spring Greens, then spoon Checca into the middle.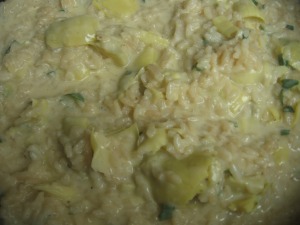 Risotto is a wonderful dish that you can add anything to. It does take constant attention, and stirring, but you can do other things while it's cooking.
In a deep skillet, sautee:
3 Tablespoons Olive Oil
2 Tablespoons Butter
1 teaspoon Minced Garlic
1 Shallot, minced
1 Cup Acquarello Rice (you can also use Arborio Rice)
As soon as rice starts to brown, pour in:
2 15-ounce cans Chicken Broth , 1/2 cup at a time. When liquid is almost absorbed, add the next 1/2 cup. You will see the rice plump.
When liquid is absorbed, add:
1 Cup White Wine
1 Can Artichoke Hearts, cut in half
When wine is almost absorbed, stir in:
1/2 Cup Cream
1/2 Cup Parmesan Cheese
1 Tablespoon Fresh Parsley, minced (you can use dried, but reduce the amount to 1 teaspoon)
1 Tablespoon Fresh Tarragon, minced (you can use dried, but reduce the amount to 1 teaspoon)
Salt & Pepper to taste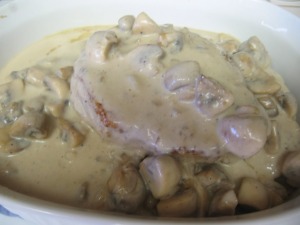 Pork Cutlets with Marsala Cream Sauce
Pre-heat oven to 350 degrees.
Sprinkle 3 Boneless Pork Chops with Salt and Pepper
On a plate, stir together:
3 Tablespoons Flour
Salt and Pepper
In a large frying pan, melt:
2 Tablespoons Olive Oil
1 Tablespoon Butter
Dredge Pork in flour mixture, and pan-fry for 5 minutes on each side. Reserve Flour for later use.
Place on a platter and put in oven.
Add 1 more Tablespoon of Olive Oil to pan.
Stir in:
1 Shallot, minced
8 ounces Fresh Mushrooms, quartered
Cook about 5 minutes.
Add 1 more Tablespoon Butter.
Stir in reserved Flour mixture.
Pour in 1/2 Cup Marsala wine.
Continue stirring until sauce starts to thicken, then stir in 1/2 Cup Half-and-Half.
Remove platter of Pork Chops from the oven, and cover with sauce. When plated, sprinkle with fresh Parsley.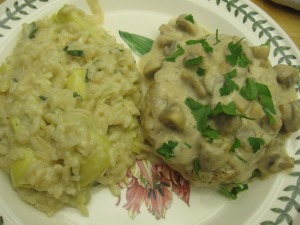 These recipes are provided for your personal use. If you publish them, or re-post them, please give me credit. Grazie e Buon Appetito!