Caramel Birthday Cake for Mercedes!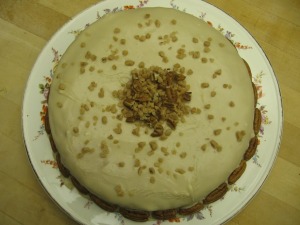 Caramel Cake
Preheat oven to 375 degrees.
Place parchment paper in the bottoms of two 9-inch cake pans, and spray with Baking Spray.
1/3 cup Sugar
1/4 cup Water
Stir until it turns deep golden in color and creates a Caramel Syrup. Remove from heat and set aside to cool.
In a stand mixer, beat for 2 – 3 minutes until fluffly and pale yellow:
1-1/4 cups Sugar
3/4 cup Butter
Add:
3 Eggs, one at a time, beating after each addition.
Pour in cooled Caramel Syrup.
Sift together:
3 cups Cake Flour
3 1/2 teaspoons Baking Powder
1 teaspoon Salt
Add half to batter, blending well.
Add:
1 teaspoon Vanilla Extract to
1 cup Milk
Add half to batter, blending on low speed. Add remaining Flour Mixture, then blend, and end with remaining Milk mixture.
Divide batter evenly among the two prepared pans and bake 35 minutes, or until wooden toothpick inserted in the center comes out clean.
Remove pans from oven and let stand about 10 minutes, then turn out cakes, peel off paper and cool completely.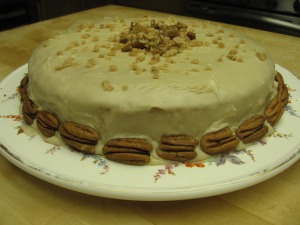 In a medium saucepan, melt:
1/2 Cup Butter (1 stick)
Continue stirring until golden brown. Remove from heat.
Whisk in:
4 1/2 cups powdered sugar
4 Tablespoons Half-and-half
Stirring until thick, smooth, and spreadable. If frosting is too thick, drizzle in more Half-and-half.
You can make 2 separate 1-layer cakes, as I did, or make a 2-layer cake with frosting in the middle.
Decorate edge of cake with Pecan halves.
Enjoy!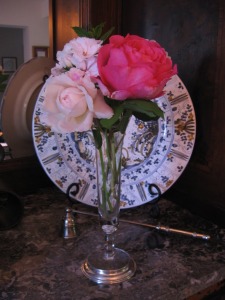 Roses, Geraniums, and Mint from our garden.
These recipes are provided for your personal use. If you publish them, or re-post them, please give me credit. Grazie e Buon Appetito!