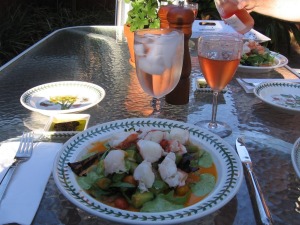 This is an involved dish with layer upon layer of flavor. It is amazing, and every bite is unique.
We did make a couple changes from the original recipe. I added a bunch of poached asparagus, and used mixed Spring Greens instead of all Arugula.
Rinse a bunch of Asparagus and snap the ends off.
Place in a large frying pan with the juice of 1 Lemon and enough water to make 1/2 inch of liquid in the bottom of the pan
Sprinkle with Herbes de Provence and Sea Salt.
Cover and poach until Asparagus is tender – about 10 minutes.
Drain liquid and place a couple handfuls of ice in the pan to stop cooking and cool.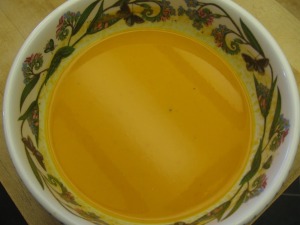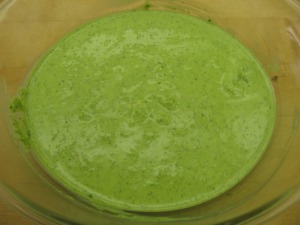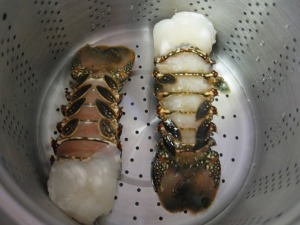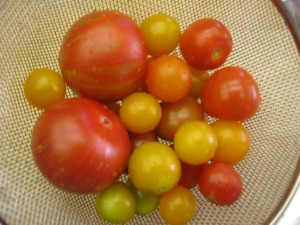 Fresh Tomatoes grown in our garden!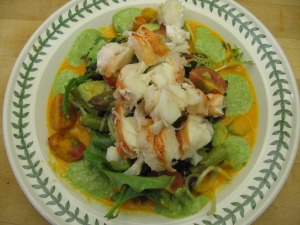 I made a "raft" of Asparagus, piled Spring Greens on it, then the vegetable mix. I used a baster to add the Tomato Vinaigrette around the salad, and an Iced Tea spoon to drop the Pesto Mayonnaise around the plate.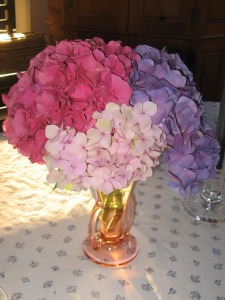 Hydrangeas from my mother's garden
These recipes are provided for your personal use. If you publish them, or re-post them, please give me credit. Grazie e Buon Appetito!