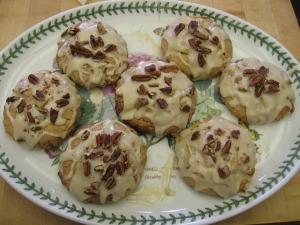 Maple, Oat, and Toasted Pecan Scones
Okay, so technically, this isn't a meal, but they are so good I had to share them with you! Those of you who know me know that baking is my passion.
Preheat the oven to 400 degrees F.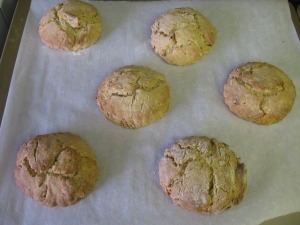 Toast 3/4 Cup Pecans on a Baking Sheet lined with Parchment Paper for 5 minutes. Set aside to cool.
In the bowl of a stand mixer fitted with a paddle attachment, combine the flours, oats, baking powder, sugar and salt.
Blend the cold butter in at the lowest speed and mix until the butter is in pea-size pieces.
Then add in Pecans, mixing to blend.
1 3/4 Cups Unbleached Flour
1/2 Cup Whole-wheat Flour
1/2 Cup Oats
1 Tablespoon Baking Powder
1/4 Cup Dark Brown Sugar
1 Teaspoons Salt
1/2 Pound (2 sticks) cold Butter, diced
1/2 Cup Toasted Pecans
Combine the buttermilk, maple syrup and eggs and add to the flour-and-butter mixture.
Mix until just blended, The dough will be sticky.
1/4 cup cold Buttermilk
1/4 cup Pure Maple Syrup
2 large Eggs, lightly beaten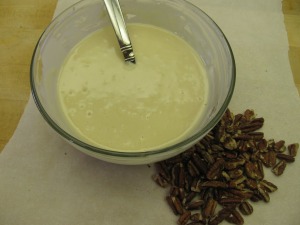 To make the glaze, combine the confectioners' sugar, maple syrup and vanilla, stirring with a fork.
1 1/4 cups confectioners' sugar
1/2 cup pure maple syrup
1 teaspoon pure vanilla extract
Dump the dough out onto a well-floured surface and be sure it is combined.
Sprinkle a little flour on the top of the dough and pat until it's 3/4 to 1 inch thick.
Cut into 3-inch rounds with a plain or fluted cutter and place on 2 baking sheets lined with parchment paper.
Bake for 20 to 25 minutes, until the tops are crisp and the insides are browned.
When the scones are done, cool for 5 minutes and drizzle each scone with glaze.
Sprinkle with toasted Pecans.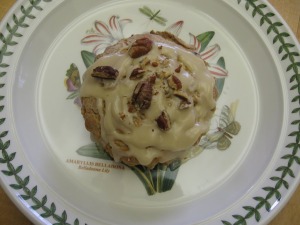 These recipes are provided for your personal use. If you publish them, or re-post them, please give me credit. Grazie e Buon Appetito!