We had so much leftover food from John's Birthday Party. This is one of the dishes we made using the Shredded Pork. It was so easy & delicious!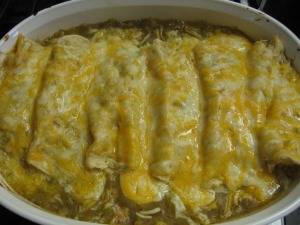 Preheat oven to 350 degrees.
Dredge a Corn Tortilla through sauce until it's well-coated.
Place in an oblong baking dish and spoon about 3 Tablespoons Shredded Pork in the middle and top with about 1 Tablespoon of Cheese. Roll tortilla and place seam side down. (Repeat 5 more times.)
Top with Cheese and bake for 30 minutes. Top with Sour Cream, if you like.
Place in a shallow baking dish, cover with shredded cheese and bake for 20 minutes.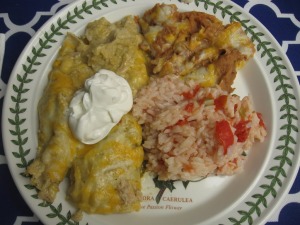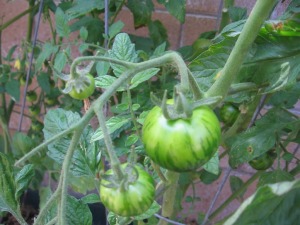 "Mr. Stripey" Heirloom Tomatoes growing in our garden.
These recipes are provided for your personal use. If you publish them, or re-post them, please give me credit. Grazie e Buon Appetito!