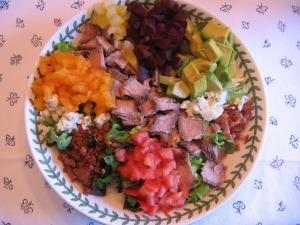 Steak Cobb Salad
Arrange in two large pasta bowls:
1/2 head Iceberg Lettuce sliced thinly in both directions
8 Pieces Red Leaf Lettuce sliced thinly
3 tomatoes (I used red, yellow, and orange to add color), seeded and diced
3 ounces Roquefort Cheese, crumbled
4 small Beets, roasted and diced (I used the pre-cooked ones from Trader Joe's)
1 Hass Avocado, peeled and diced
3 ounces cooked Bacon
About 6 ounces leftover grilled Rib-eye Steak, thinly sliced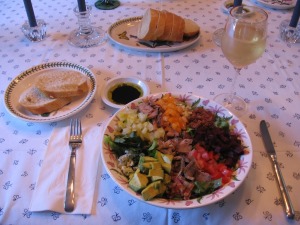 From a fellow blogger, this salad dressing created the perfect blend of summer flavors. It is light, a little sweet, peppery, and refreshing with fresh mint. It really enhanced the flavors of the salad.
Wonderful with a glass of Viognier!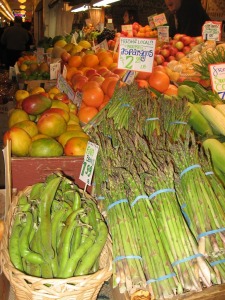 Fresh Produce for sale at Pike Place Market, Seattle, WA.
These recipes are provided for your personal use. If you publish them, or re-post them, please give me credit. Grazie e Buon Appetito!