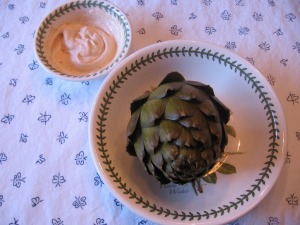 We used Grapefruit Spoons to clear out the furry centers of the Artichokes to get to the succulent hearts!
Cut the stems off the artichokes so they sit flat.
Steam until you can easily pull a leaf from the center with a pair of tongs ~ about 45 minutes – 1 hour
We served these with Chili-lime Mayonnaise:
1/4 cup Mayonnaise
Juice from 1/4 Lime,
1/4 tsp Chili Powder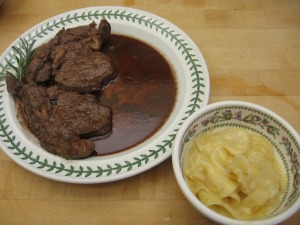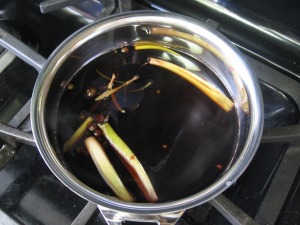 Filet Mignon with Ruby Port Reduction Sauce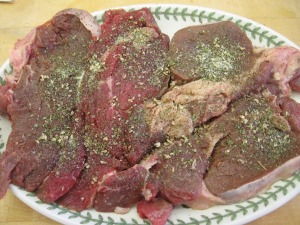 I truly wish I could send you the aroma of this reduction sauce wafting through our kitchen while it reduced on the stove. Our patience and the anticipation of this meal were justly rewarded when the flavors all came together in the end to melt in our mouths!
Butterfly two Filet Mignon Steaks and lay flat.
Set aside.
In a small saucepan, simmer:
2 Cups Ruby Port ~ we used
EOS
1 Green Onion
4 small sprigs Fresh Rosemary
1 Tablespoon Whole Peppercorns
1/4 teaspoon Salt
Contine to simmer over low heat for about an hour until reduced to 3/4 cup (less than half), then strain.
In a large frying pan, add:
2 Tablespoons Olive Oil
2 Tablespoons Butter
When Butter is melted, add steaks and cook for about 4 minutes on each side.
Remove steaks and deglaze pan with Port Reduction Sauce.
Spoon Sauce over steaks.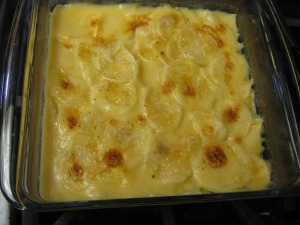 John & I jokingly call these "our secret family recipe." They are so good & so easy to make!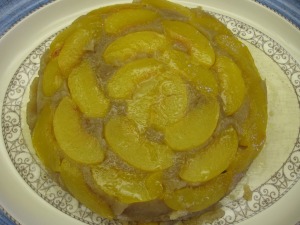 Summery Peach Upside-downer Cake
Peaches are my favorite summer fruit! Here is another fabulous recipe from Dorie Greenspan's "
Baking From My Home to Yours
," page 206. This cake is quick and easy to make, and just the right size for a small dinner party or pot-luck.
These recipes are provided for your personal use. If you publish them, or re-post them, please give me credit. Grazie e Buon Appetito!