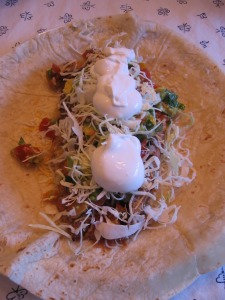 Texas-style Fajita Steak Burritos
Sprinkle Skirt Steak (also called Ranchero in Mexican Markets) with Garlic Salt and Chili Powder.
Grill over medium heat for 4 minutes on each side, then squeeze juice of 1/4 orange.
Allow juice to soak into meat, then flip over and squeeze juice of another 1/4 orange and allow to soak into meat before removing from grill.
Let meat rest for 5 minutes, then slice into 1/4 inch-wide strips.
Serve in Burrito-size flour tortillas with Refried Beans, Avocado Pico de Gallo, Shredded Cabbage, Shredded Cheese, and Sour Cream.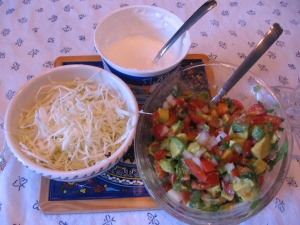 In a medium bowl, stir together:
About 15 Cherry Tomatoes, quartered
1/2 White Onion, finely diced
1 ripe Haas Avocado, Peeled and diced
About 6 sprigs fresh Cilantro, minced
Juice of 1/2 a Lemon (or Lime)
1/2 tsp Salt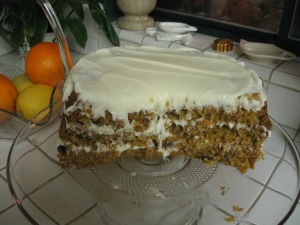 Another wonderful creation from Dorie Greenspan's
Baking from My Home to Yours
. This is a lovely, flavorful cake finished with Cream Cheese Frosting imbued with fresh lemon juice. She suggests using dried cranberries instead of raisins which I was skeptical about, but really like. They have better flavor and texture than raisins.
´╗┐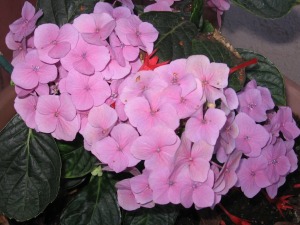 Pink Hydrangea in our garden
These recipes are provided for your personal use. If you publish them, or re-post them, please give me credit. Grazie e Buon Appetito!