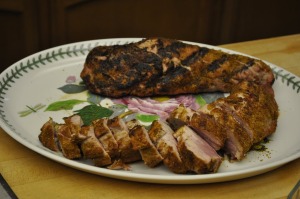 John made this flavorful rub for 2 Pork Tenderloins.
Mix together and spread all over meat:
1 Tablespoon Mild Curry Powder
1 teaspoon Ground Cumin
1 teaspoon Salt
1/4 teaspoon Cinnamon
Grill over medium-high heat for 10 minutes on each side.
Slice into 1/4 inch medalions.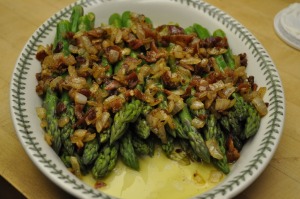 Asparagus and Bits of Bacon
Another wonderful vegetable recipe from Dorie Greenspan's brand new
Around my French Table
. We eat a lot of asparagus, so it was nice to try a new recipe – the flavors really go well together.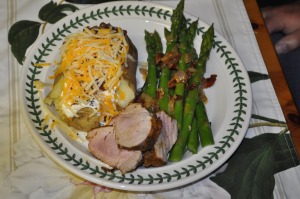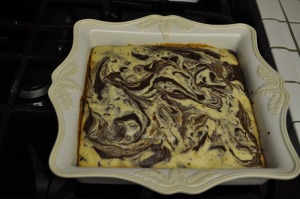 Aunt Kak's Cream Cheese Brownies
My aunt gave me this recipe about 25 years ago – and it's just as good today as it was then!
Preheat oven to 350 degrees.
In a small saucepan, melt:
3 Tablespoons Butter
4 ounces Bittersweet Chocolate
Set aside to cool.
Cream Cheese Batter
In a stand mixer, cream:
3 ounces Cream Cheese, softened
2 Tablespoons Butter
Scrape down sides of bowl with a rubber spatula, and add:
1 Egg
1 teaspoon Vanilla
1/4 cup Sugar
1 Tablespoon Flour
Continue to beat until fully blended.
Stir in 1/4 cup Mini Chocolate Chips
Set aside.
Chocolate Batter
In a medium bowl, beat:
2 Eggs
3/4 cups Sugar
Scrape down sides of bowl with a rubber spatula, and stir in:
1/2 cup Flour
1/2 teaspoon Baking Soda
1/4 teaspoon Salt
When fully blended, stir in cooled melted Chocolate mixture.
Stir in 1/4 cup Pecans, chopped
Spray a 9-inch sqare pan with non-stick baking spray.
Pour half of Chocolate batter in bottom of pan, and spread evenly.
Cover with Cream Cheese batter.
Then top with remaining Chocolate batter.
Blend back and forth with the flat side of a knife until marbled.
Bake for 30 minutes.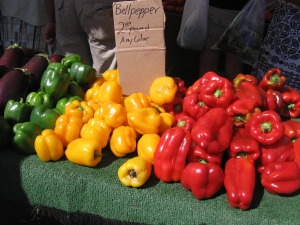 Colorful Bell Peppers for sale at the Channel Islands Farmers' market.
These recipes are provided for your personal use. If you publish them, or re-post them, please give me credit. Grazie e Buon Appetito!