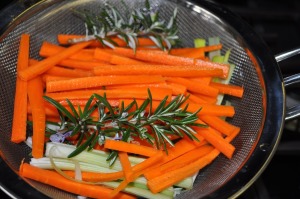 The "French Fridays with Dorie" recipe this week is this light, flavorful tart scented with mustard and rosemary. I was a little apprehensive about making this tart because as much as a Francophile as I am, I'm not a big fan of mustard. But, it was really great. We talked about serving it at our next wine-tasting party.
Steak Cobb Salad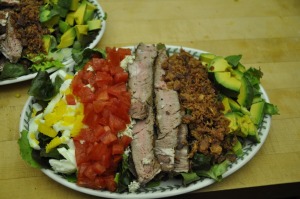 This is one of our favorite ways to eat leftover steak.
Line a plate with a mix of leafy greens, then arrange the other ingredients on top:
Hard-boiled Egg
Roma (Plum) Tomatoes, seeded and diced
Gorgonzola Cheese
Bacon
Avocado
Late Harvest Zinfandel Vinaigrette
2/3 cup Olive Oil
1/4 teaspoon Dry Mustard
1/4 teaspoon Fresh Ground Pepper
Pinch of Salt
Place all ingredients in a glass jar with a lid, screw lid on tightly, and shake vigorously.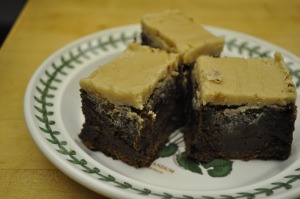 This recipe comes from fellow-blogger,
Recipe Girl
. It always turns out perfectly. I've made it with Chambord as well – it was equally delicious!
´╗┐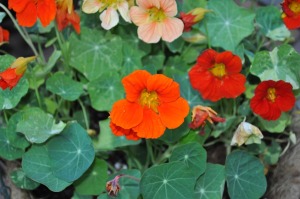 Nasturtiums blooming in our garden
´╗┐
These recipes are provided for your personal use. If you publish them, or re-post them, please give me credit. Grazie e Buon Appetito!