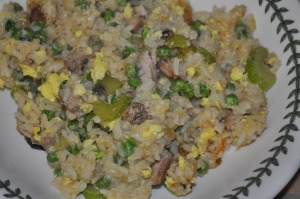 Pork Fried Rice
Cook 1 cup white rice according to package instructions (we've also used brown rice).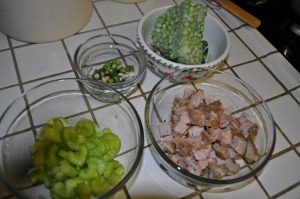 In a wok, or large, shallow skillet, stir-fry:
1 Tablespoon Canola Oil
2 teaspoons Garlic, minced
6 Green Onions, finely sliced (you can use 1/4 cup finely diced regular onion)
3 ribs celery, sliced in thin pieces horizontally
When vegetables begin to soften, add:
2 more Tablespoons Canola Oil
Cooked rice
Stir constantly until rice begins to brown
Stir in:
1 cup frozen Peas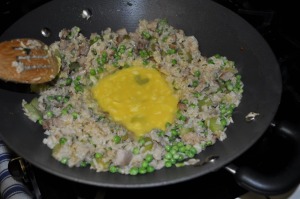 1 1/2 cups diced cooked pork – we used leftover meat from George Ann's Pork Loin (you can use cooked chicken, shrimp, or beef instead)
2 teaspoons Soy Sauce
1/2 teaspoon ground Black Pepper
Continue stirring until peas are cooked and pork is heated through.
Whisk 2 eggs in a small bowl.
Create a well in the middle of the rice, and pour the eggs in.
Scramble eggs, and work rice in gradually until fully mixed.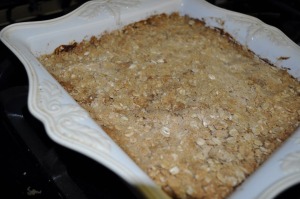 I had a hard time finding a recipe for these old-fashioned treats that I remember from when I was a kid. They used to be so popular that that several mixes were available at the grocery store, including on from Betty Crocker. I created this recipe by cobbling together a few other recipes and from my memory.
Preheat the oven to 350 degrees.
For the Date Filling:
In a small saucepan, stir together:
1 cup Dates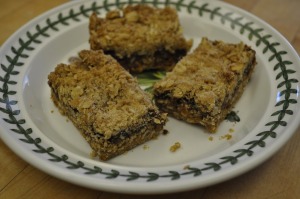 2 Tablespoons Brown Sugar
1/2 cup Water
Pinch of salt
Cook over low heat, stirring constantly until filling bubbles and thickens.
Remove from heat.
For the crumb:
In a large bowl, stir together:
1 cup Flour
2/3 cup Brown Sugar
1/2 teaspoon Baking Soda
1/2 teaspoon Salt
Cut 1 stick Butter into Tablespoon-sized pieces.
Cut into Flour mixture with a pastry cutter.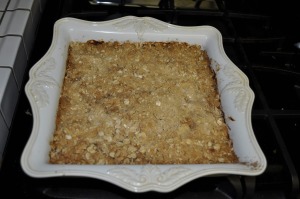 Add 1 cup Oats, and blend throughly.
Place 2/3 crumb mixture into a 9 x 9 inch baking pan.
Press evenly into place with your hand.
Coat with Date filling, speading with a rubber spatula to evenly distribute.
Evenly spread remaining crumb over the top of the date filling
Bake for 25 minutes until golden brown.
Allow to cool for about 1/2 hour, then cut into bars.
´╗┐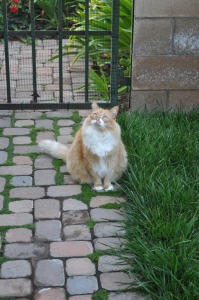 Braveheart in the garden
´╗┐
These recipes are provided for your personal use. If you publish them, or re-post them, please give me credit. Grazie e Buon Appetito!