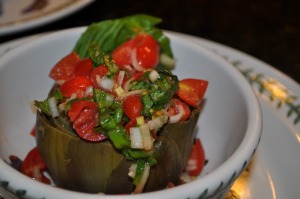 I tasted the most amazing stuffed artichokes at
Ca' Dario restaurant in Santa Barbara
. If I lived there, I would pick one up every week – but since it's a 45 minute drive, I decided I'd better figure out how to make them for myself. Really, if you go there, you must have one, but if you can't make it, these are the next best thing.
Stuffed Artichokes (Carciofi Ripieni)
Grate the peel of one lemon, and set aside.
Cut the tops off of 4 medium artichokes with kitchen shears – be careful because they have little thorns at the tips.
Place them in a large pot fitted with a steam basket.
Fill with water so it's not touching the basket, but keep an eye on it – you may have to add more during the steaming process.
Squeeze the juice of the lemon over them.
Place lid on pot and steam for 45 minutes.
Remove from pot, and allow to cool to room temperature.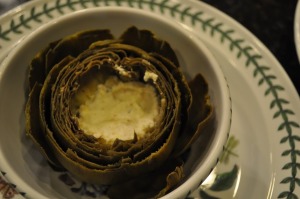 While the artichokes are cooling, place the following in a medium mixing bowl:
1/2 cup Ricotta Cheese
Reserved Lemon Zest
1/2 teaspoon Garlic Salt
1/2 teaspoon Pepper
1/4 Cup Parmesan Cheese
Stir together with a fork until thoroughly combined.
Set aside.
In another bowl, stir together:
About 20 Cherry Tomatoes
3 Green Onions, finely diced
1 Clove Garlic, finely minced
10 Fresh Basil leaves, chiffonade
1 Tablespoon Olive Oil
Salt and Pepper, to taste.
Set aside.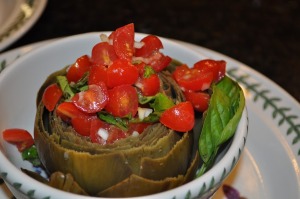 Remove the pale center leaves from the Arichokes – you should just be able to pull them out.
Use a serated grapefruit spoon to remove the center fuzzy bit – it should just pop out.
Spoon 1/4 of Ricotta Cheese mixture into each Artichoke, pressing down with the back of a spoon.
Spoon Tomato mixture over the Ricotta allowing a little to spill over the leaves.
Chill in the refrigerator until you're ready to serve them.
Garnish with whole Basil Leaves and serve as a starter course.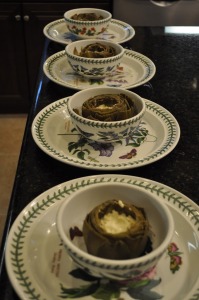 Artichokes with Ricotta Filling
These recipes are provided for your personal use. If you publish them, or re-post them, please give me credit. Grazie e Buon Appetito!