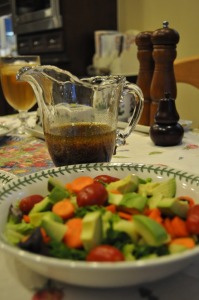 Dinner Salad
In two bowls, add:
Spring Greens
2 Carrots, sliced
2 ribs Celery, sliced
1 small Avocado, diced
10 Cherry Tomatoes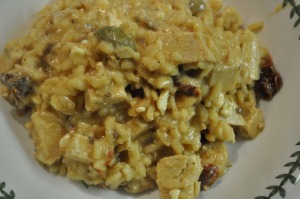 Grecian Risotto
Risotto forms a wonderful base for all kinds of meats, cheeses, and vegetables. It's easy to make on a busy day, and re-heats well. Tonight, we made this Greek-inspired version.
In a large skillet, saute:
3 Tablespoons Olive Oil
1 small Onion, finely diced
2 cloves Garlic, minced
When the onion starts to become transluscent, stir in:
1 cup Arborio Rice
Continue stirring until rice begins to brown.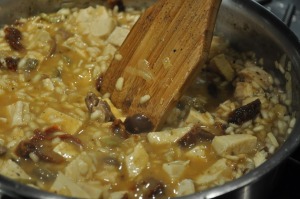 Add 4 cups
Chicken Broth
in 1 cup increments stirring frequently until most of the liquid is absorbed before adding the next cup.
Then stir in:
1 cup white wine ( I used Pinot Grigio)
1/4 cup chopped Kalamata Olives
1/3 cup chopped Sun-dried Tomatoes
1 teaspoon dried Oregano
Pepper, to taste (you won't need to add extra salt)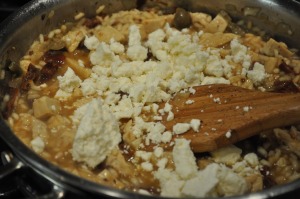 When most of the liquid is absorbed, stir in 6 ounces crumbled Feta Cheese. Keep stirring until throughly combined.
Let rest for 5 – 10 minutes before serving.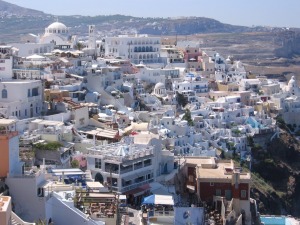 Santorini Island, Greece
These recipes are provided for your personal use. If you publish them, or re-post them, please give me credit. Grazie e Buon Appetito!