Line a 9″ x 13″ roasting pan with foil and center a roasting rack in it.
Place a 2-pound Pork Loin in the rack.
In a small bowl, blend:
1 teaspoon Salt
3/4 teaspoon dried Thyme
1/2 teaspoon ground Cinnamon
1/2 teaspoon ground Black Pepper
1/8 teaspoon ground Nutmeg
1/8 teaspoon ground Cloves
Rub spice mix into pork loin, turning to coat both sides.
2 small Sweet Potatoes, cubed
4 each red and white baby Potatoes, quartered
4 Carrots, cut into sticks
2 Tablespoons Olive Oil
1 teaspoon Salt
1 Teaspoon Pepper
Toss to coat and scatter in the roasting pan.
Bake for 1 hour.
Remove roast from rack and cover with foil.
Place vegetables in a vegetable dish and cover with the lid.
Pan Drippings
1 cup White Wine
Bring to a boil, and continue to boil for 2 minutes.
Pour into a small pitcher, and serve with meat and vegetables.


Slice roast and plate with vegetables.
Garlicky Crumb-coated Broccoli
Although we liked this recipe and it was easy to make, I doubt we'll make it again. There's nothing wrong with it, but living in Southern California, we eat fresh steamed vegetables all the time with a spritz of lemon, a sprinkling of herbs, or a dollop of butter, and that's good enough.
Unbelievably, I searched the internet for a Strawberry Banana Cake recipe made from scratch. I found everything from Strawberry Cake mixes, to Banana-Strawberry Jell-o, to Bisquick, but no truly home-made cakes, so I created this one by taking bits and pieces from several others. It can be baked as a 2-layer cake, or in a 9″ x 13″ pan – which is what I made. It has a dense, moist crumb that is so delicious and pretty that you'll want it on your table for Easter dinner.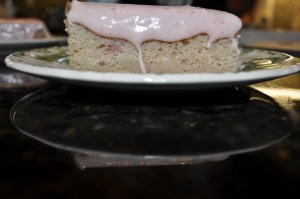 For the cake
Preheat the oven to 350 degrees.
In a food processor, puree:
2 pints fresh Strawberries
2 ripe Bananas
You should have about 4 cups. Set aside.
In a stand mixer fitted with a paddle beater, blend:
1 cup Butter
1 cups Sugar
1/2 teaspoon Almond Extract
for about 3 minutes until light & fluffy.
Add 3 Eggs, one at a time, blending thoroughly after each addition.
Scrape down the sides of the Pour in 3 cups of Strawberry Banana puree, and mix until thoroughly combined – the batter may look curdled at this point, but it will smooth out when you add the dry ingredients.
Scrape batter down, again, and add:
2 1/4 cups Flour
2 teaspoons Baking Powder
1/2 teaspoon Salt
Blend until thoroughly combined.
Pour batter into 2-8″ of 9″ round cake pans, or 1-9″ x 13″ pan, sprayed with baking spray, or buttered and floured.
Bake for 25 – 30 minutes until a toothpick comes out clean. Let cool.
For the Frosting
In a stand mixer fitted with a paddle beater, blend:
8 ounces Cream Cheese
1/2 cup Butter
1/2 teaspoon Almond Extract
until light and fluffy.
Scrape down the sides of the bowl, then blend in 1/2 cup Strawberry Banana Puree.
When thoroughly combined, scrape bowl down, again.
1/4 teaspoon Salt
3 1/2 – 4 cups Powdered Sugar, 1/2 cup at a time, until icing reaches desired consistency.
Let cake cool completely before icing it. Store in refrigerator.
You'll have some fruit puree left over that would be wonderful mixed with yogurt and ice in a blender.
These recipes are provided for your personal use. If you publish them, or re-post them, please give me credit. Grazie e Buon Appetito!