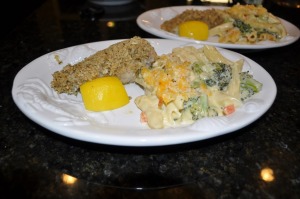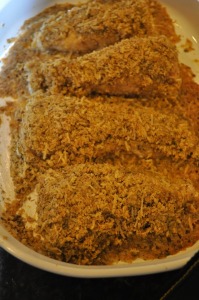 This recipe comes from my friend, Mary, at One Perfect Bite. It's easy, delicious, and provides a basic technique that can be readily modified to accommodate other seasonings. I also learned a neat trick – a little spritz of cooking spray holds the topping in place.
For our side-dish, we used another one of Mary's recipes, House Special Mac 'n Cheese with Broccoli. It was the perfect mixture of cheese, vegetables, and pasta! The only thing I would do differently next time is to cook the broccoli with the pasta instead of in milk to save a pan. It was great! We will make it again & again!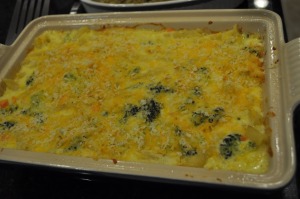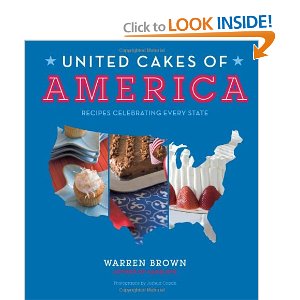 The piece de resistance is from Warren Brown! This is such a cool cookbook – it presents cakes and stories in a tribute to America.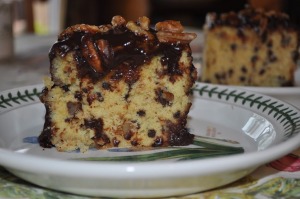 This moist bundt cake is scented with Bourbon and studded with toasted pecans and chocolate chips then brushed with Bourbon Butter Sauce, drizzled with Chocolate Ganache, then decorated with candied pecans. Seriously, what could be better!?! I love this cookbook – the directions are easily laid out even for a multi-step recipe like this, easy to follow, and produce wonderful results! I even learned a few tricks like coating the pecans and chocolate chips before adding the to the cake batter. Absolutely delightful!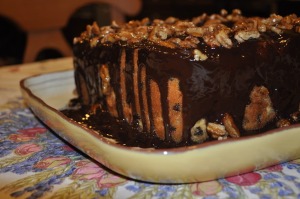 These recipes are provided for your personal use. If you publish them, or re-post them, please give me credit. Grazie e Buon Appetito!