Wonderful heirloom tomatoes have arrived at the Channel Islands Farmers' Market! The dark red and green Cherokee is the inspiration for this salad. Lucky for us, they were selling plants, too, so we just planted this one in our newly constructed vegetable garden.
Line 2 salad bowls with Mixed Spring Greens.
Slice a Tomato and place 3 slices around greens.
Dice remaining tomato slices and place in center of greens.
Top with 3 Green Onions, thinly sliced, and several leaves of Basil chiffonade.
Sprinkle with Gorgonzola cheese and Toasted Pine Nuts.
Garnish with Fresh Basil.
Serve with Country French Vinaigrette.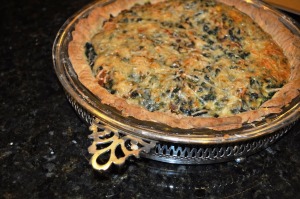 Spinach and Bacon Quiche
This week's French Fridays with Dorie challenge is for this Spinach and Bacon Quiche. I made it in a classic pie plate instead of the recommended tart pan, and it turned out just fine.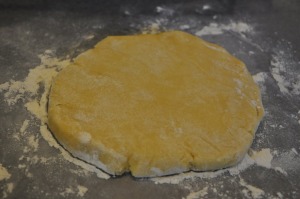 Tart Pastry
 I made this recipe on a week-night and thought it had a few too many steps, so used these shortcuts:
Instead of chilling the pastry in the refrigerator for 3 hours, I placed it in the freezer for 1/2 hour
Instead of cooking the bacon, onions, and garlic separately, I sliced the bacon when it was raw, and cooked them all together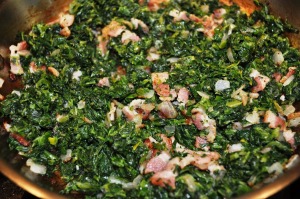 Spinach, Bacon & Garlic portion of the filling
Despite this classic combination of ingredients, we found this tart lacking in flavor. We served it as a main course, but thought it would be better as a side dish on a holiday buffet.
I like my quiches fluffy and thought this was more like a spinach pie. My favorite recipe comes from The Loaf and Ladle Cookbook. Joan Harlow offers several flavor combinations and encourages you to make your own. For example, she calls her recipe, "Quiche Lorraine…or Somebody". I've used her recipes for over 20 years to make large, individual, and mini quiches for all occasions, and they always turn out great.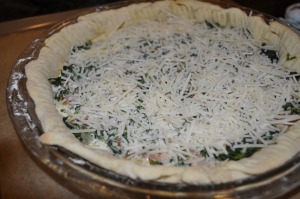 Ready for the oven
I was happy to try a new recipe, but not pursuaded to give up my signature favorites.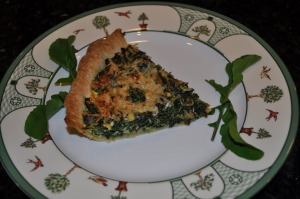 Tah-Dah!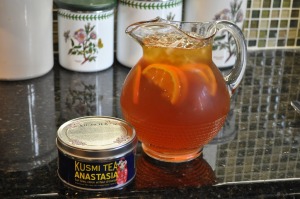 This Duncan Miller Teardrop pitcher is from our Depression Glass Collection
I have a weakness for tea – I love to try all different kinds hot and cold. On a recent visit to the Farmers' Market in LA, I purchased this wonderful French
Kusmi Anastasia Russian-style
tea
~ I think it's the best Iced Tea I've ever had! It's a
b
lend of Chinese and Ceylon black teas flavored with natural essences of bergamot, lemon, and orange blossom.
"This historic Kusmi Tea blend is a tribute to the Grand Duchess Anastasia Romanov, daughter of Tsar Nicholas II, who mysteriously disappeared in 1918 after the fall of the Russian royal family. Viatcheslav Kousmichoff, the son of the founder, created this blend during his time in London, shortly after the disappearance of the princess."
We drink lots of Iced Tea, and this is how we make it. Fill a one-gallon pitcher with ice and pour in 4 cups hot tea.
for tea bags, place 4 in a 4-cup Pyrex measuring cup and fill with boiling water
for loose leaf tea, brew 3 Tablespoons in a Bodum teapot fitted with a strainer
For this batch, we added a sliced orange, but we often use sliced lemons, limes, or fresh mint sprigs as well. We also enjoy Arnold Palmers with half tea and half lemonade.
These recipes are provided for your personal use. If you publish them, or re-post them, please give me credit. Grazie e Buon Appetito!