This wonderfully flavorful recipe comes from Tyler Florence. When I purchased organic, grass-fed Beef from Novy Ranches at the Channel Islands Farmers' Market this morning, I knew I wanted to do something special with it. We made this recipe with Spring Onions, Carrots, and Celery from the Farmers' Market and Rosemary and Italian Parsley from our garden.


This dish is destined to become one of John's signature meals that we will enjoy again & again! It's truly the best brisket either one of us has ever had. Besides the quality and tenderness of the beef, the herbs, wine, and vegetables roasted into a sublime sauce that we thickened with just a Tablespoon of Wondra flour. The carrots absorbed so much flavor that they were a treat in and of themselves.


This would be a wonderful dish to make for company because once you put it in the oven, you just let it be – and your house smells so inviting. The last hour was the hardest because it smelled so good! But we just had to wait – and it was so worth it!
Tyler Florence recommends serving this Brisket with Potato Pancakes, but we opted for plain old Mashed Potatoes – maybe it's a California thing…
Peel and cube 6 – 8 medium Russet Potatoes.
Place them in a large saucepan and cover with water.
Add about 2 teaspoons of Salt to the water and boil for 15 – 20 minutes over medium-high heat until the Potatoes can be easily pierced with a fork.
Turn off heat.
Strain Potatoes and return to pan.
Add 1/4 cup Butter.
1/2 cup Sour Cream.
Salt and Pepper, to taste.
Mash with a Potato Masher until they reach the desired consistency.
If you like, you can stir in Chives, Bacon Bits and/or shredded Cheese.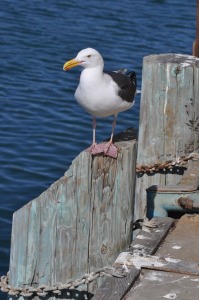 Seagull at Channel Islands Harbor Fish Dock
These recipes are provided for your personal use. If you publish them, or re-post them, please give me credit. Grazie e Buon Appetito!