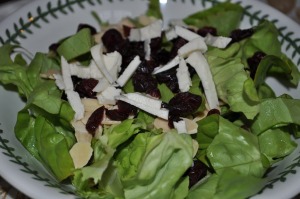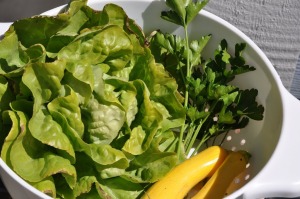 This salad is made from the first head of lettuce we harvested from our garden and home-made Queso Fresco from Santa Paula given to us by our friend, Karen.
Clean and slice (or tear) the leaves of one head of Butter Lettuce.
Divide between 2 bowls and top with:
Julienned Queso Fresco
Craisins
Sliced Almonds
Country French Vinaigrette made with Sherry Vinegar and Olive Oil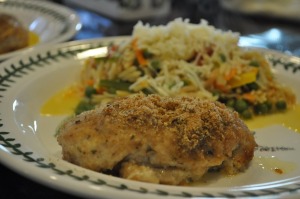 This is a super-simple and flavorful way to bake Chicken and the leftovers work great in Pastas, Risottos, and Sandwiches. We've also made this using Olive Oil in place of Butter.
Pre-heat the oven to 350 degrees.
Place 1/4 cup of Butter (1/2 stick)
in an 8 x 8-inch baking dish and put it in the oven until the Butter melts (if you're using Olive Oil, skip this step).
Remove baking dish from oven.
Turn each piece of Chicken in Butter until coated.
Then dredge in Brad Crumbs and return to baking dish.
Cover baking dish with foil, or lid. and bake Chicken for 30 minutes.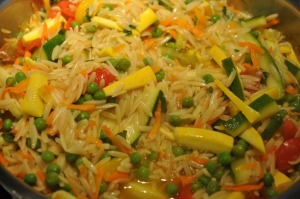 "Primavera" means "Spring" in Italian, and this dish is filled with Spring vegetables. We make Risottos a lot, so decided to try something a little different and created this Orzo dish using Risotto cooking techniques. This dish contains Yellow Squash, Tarragon, and Italian Parsley straight from our garden!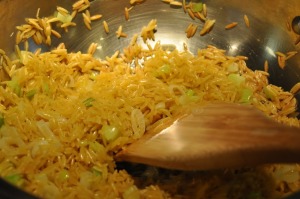 In a deep, medium saucepan, saute:
3 Tablespoons Olive Oil
8 Green Onions, sliced
1 clove Garlic, minced
until onions begin to soften
Continue to stir until Orzo begins to brown.
When pasta begins to soften (about 10 minutes), stir in:
2 small Yellow Squash cut into matchstick pieces
1 Zucchini cut into matchstick pieces
2 Carrots, shredded
1 cup Peas (if using frozen, defrost in microwave first)
1 cup diced Tomatoes
1 Tablespoon fresh Tarragon (or 1 teaspoon dried)
3 Tablespoons fresh Italian Parsley (or 1 Tablespoon dried)
Continue to stir, adding up to one cup of water, if needed – pasta will continue to absorb water.
Sprinkle with lots of cheese! We used a 4-Cheese Italian Blend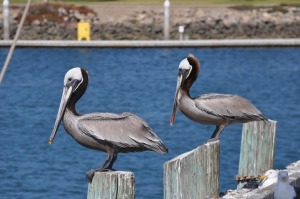 Brown Pelicans at Channel Islands Harbor
These recipes are provided for your personal use. If you publish them, or re-post them, please give me credit. Grazie e Buon Appetito!