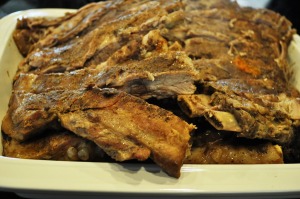 Cola and Jam Spareribs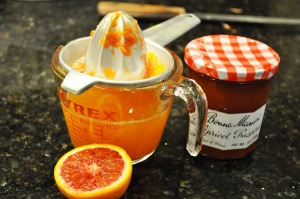 This week's French Fridays with Dorie challenge is for these delicately flavored pork spareribs. I have to admit that I never eat spareribs – I'm kind of prissy that way, but was encouraged by Dorie saying the French eat them with a knife & fork. One of the things I enjoy about being a part of this group is trying new things, so I rolled up my sleeves, and that's what I did. (I just realized I'm a week early! I'm sure my fellow Doristas will understand!)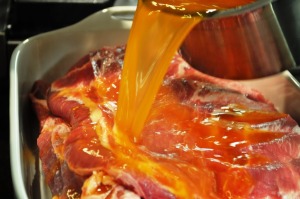 This is the kind of meal that is so impressive to make for company because it fills your home with the most enticing aromas of Anise, Ginger, Cinnamon, and Orange. The second your guests arrive, they know they're in for a treat!
We started marinating the ribs the night before we cooked them and turned and basted them every so often. They were tender, falling off the bone, and delicious.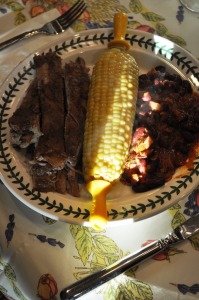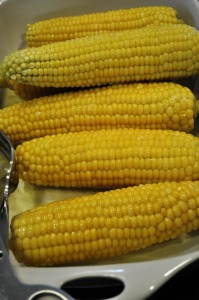 Place the corn in a stockpot filled with water and sprinkle with salt. Cook over medium-high heat, boiling for about 15 minutes.
Drizzle with melted butter.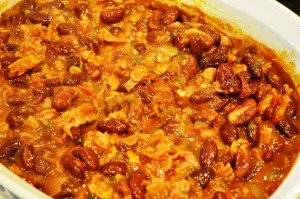 My brother brought these wonderful beans to complete the meal. He got the recipe from Cook's Country.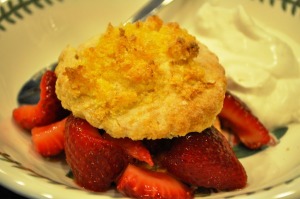 I've featured these before using Lemon instead of Orange. Both versions are equally good.
For the biscuits, just substitute Orange Peel for the Lemon Peel.
For the berries for this version: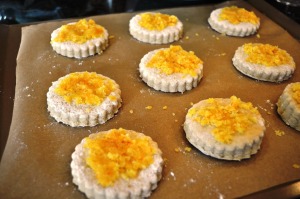 Clean and slice 3 pints of Strawberries.
Pour in:
1/4 cup Grand Marnier
2 Tablespoons Sugar
1/2 teaspoon finely grated Orange Peel
Juice of one Orange.
Let sit at least one hour before serving to allow the flavors to blend.
Serve with Vanilla Ice Cream or Whipped Cream.
These recipes are provided for your personal use. If you publish them, or re-post them, please give me credit. Grazie e Buon Appetito!