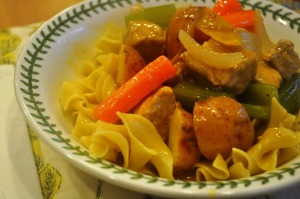 This week's French Fridays with Dorie challenge is for this Coconut-Lemongrass-Braised Pork. What a delightfully different meal! The layers of flavor are so interesting – every bite is different.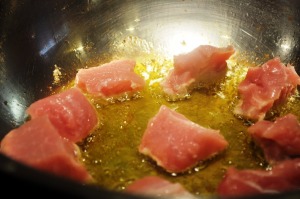 We made a couple of changes to the base recipe:
Instead of all the individual spices, we used 2 1/2 teaspoons of Rogan Josh seasoning which contains all of them, and few more
We used celery instead of celery root
After I baked the stew for 30 minutes, I thought the sauce was too thin, so I made a paste of 3 Tablespoons of Cornstarch and water and stirred it in. Then, I put it back in the oven for 10 minutes, and it turned out perfectly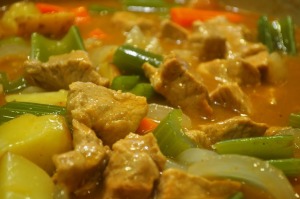 We don't really understand the French habit of cooking vegetables separately from stews, but since this was the first time we made this recipe, we made it this way. But, the next time we make it, we're going to add the vegetables to the saucier before we put it in the oven so they can absorb more of the flavors from the sauce.
This was wonderful with wide egg noodles and re-heats really well.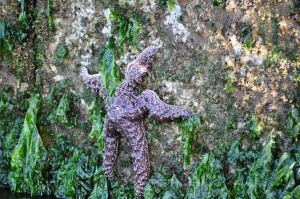 Starfish at Channel Islands Harbor – about 8 inches in diameter!
These recipes are provided for your personal use. If you publish them, or re-post them, please give me credit. Grazie e Buon Appetito!