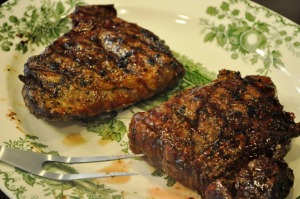 I bought this beautiful Top Sirloin from Novy Ranches at the Channel Islands Farmers' Market this morning. John cooked it according to the instructions they gave us. He rubbed it with Olive Oil and sprinkled it with Salt and Pepper, then seared it over medium-high heat and moved it to the top shelf of the grill and allowed it to cook for about 6 minutes on each side.
In a small saucepan, we sauteed:
3 Tablespoons Butter
1 Shallot, minced
6 ounces Fresh Crab Meat (you can use canned)
1 teaspoon Lemon Juice
a bit of Salt and Pepper
1 Tablespoon Flat Leaf Parsley, minced


When it was thoroughly combined, we created 4 small mounds of the Crab mixture on a parchment-lined baking sheet, topped each with a bit of Italian Blend Cheese, and placed it under the broiler for about 3 minutes.
Place slices of meat on each plate, then top with Crab and Cheese patty.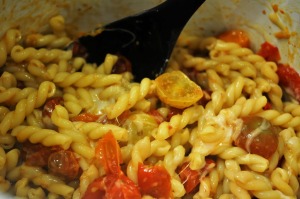 Roasted Tomato and Smoked Mozzarella Pasta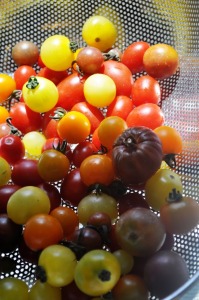 This week's French Fridays with Dorie recipe is for Roasted Cherry Tomatoes. I used a variety of Cherry Tomatoes and doubled the recipe. I topped the Tomatoes with fresh Thyme and Lemon Thyme from my garden and slow-roasted them for 3 hours. When the Tomatoes were done, I tossed them with a pound of Gemelli pasta and 8 ounces of Smoked Mozzarella Cheese. It was really delicious! I loved the roasted Garlic, too, and will add more next time.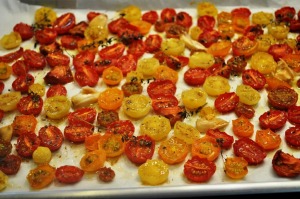 Fresh Roasted Tomatoes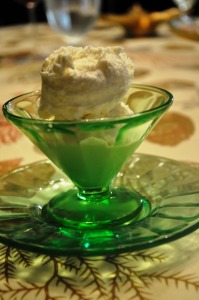 This is the fourth recipe we've tried from David Lebovitz's book, The Perfect Scoop, and each one has been incredibly delicious! I've never had Lemon Ice Cream before, but this was so creamy and delicious that I could have eaten half of it myself!
When I was a kid in Naples, I used to get Gelato cups with half-Lemon and half-Strawberry – they were my favorite! My next step will be to combine this amazing Lemon Ice Cream with Strawberry Ice Cream!
I love this book, and my sister-in-law suggested I sponsor an on-line group to work our way through The Perfect Scoop – what do you think? Are you game?
These recipes are provided for your personal use. If you publish them, or re-post them, please give me credit. Grazie e Buon Appetito!