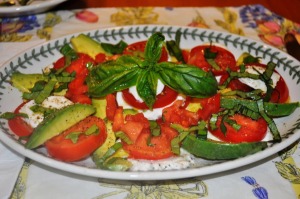 We enhanced this classic Italian Salad with fresh Avocado. These are the first Roma Tomatoes from our garden this year! We served them with fresh Mozzarella, Avocado, and Basil from our garden. We drizzled Olive Oil over the salad and sprinkled it with Salt and Pepper.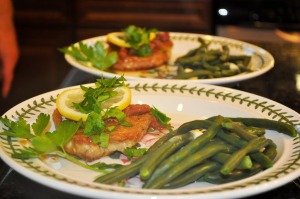 Pan-fried Boneless Pork Chops with Proscuitto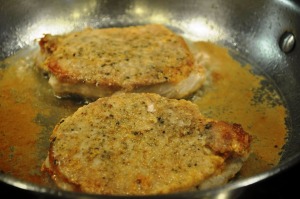 Coat 2 Boneless Pork Chops with Flour, Salt, and Pepper.
Preheat 3 Tablespoons Olive Oil in a medium skillet.
Sear pork for about 3 minutes on each side.
Add:
2 cloves Garlic, minced
Zest of one Lemon
2 ounces Proscuitto, cut into ribbons
2 Anchovy Filets
Once Proscuitto is crisp, pour in 3/4 cup Vermouth, and turn Pork Chops to coat a couple of times until Vermouth is mostly evaporated.
Garnish with Lemon slices and minced Flat Leaf Parsley.
Snap the ends off 1/2 pound Fresh Green Beans.
Place in a medium sauce pan.
Steam in 1/2 cup Water for about 10 minutes.
Sprinkle with Salt and Pepper and top with a bit of Butter.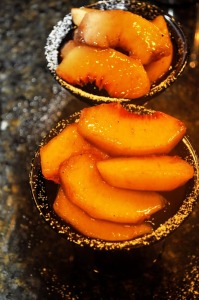 In 1997, I went to Italy by myself for two weeks. I went to the 50th Anniversary celebration of the Overseas School of Rome where I attended grades 8 – 10, made lots of new friends, and ate some amazing food. One day, I had lunch at a lovely Trattoria near Piazza di Spagna (the Spanish Steps). I can't remember what I had for lunch, but I've never forgotten the lovely fresh peaches soaked in Port that I had for dessert. This is a quick, elegant, and delicious classic Italian summer dessert.
Peel and slice 2 Fresh Peaches into a medium bowl.
Coat with 2 cups Ruby Port.
Let sit at room temperature for at least 20 minutes, stirring occasionally.
Spoon Peaches into serving dishes, topping off with some of the Port.
Sprinkle with a bit of Powdered Sugar.
Buon Appetito !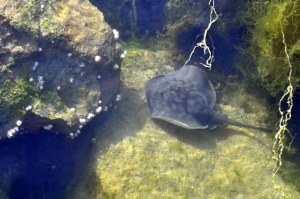 Baby Ray swimming in Seabridge Harbor, Oxnard, CA
These recipes are provided for your personal use. If you publish them, or re-post them, please give me credit. Grazie e Buon Appetito!