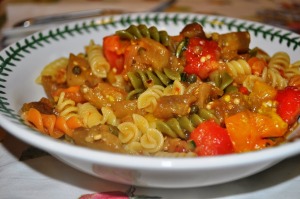 We used Tomatoes, Zucchini, and Basil fresh from our garden!
This post is dedicated to my fellow Doristas who may wonder what happened to my Eggplant Caviar last week. I actually did buy the Eggplant and intended to make the recipe, but alas, life got in the way!
This recipe works well with all kinds of vegetables and we rarely make it the same way twice. The eggplant is the main foundation.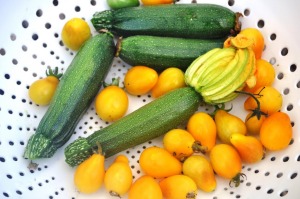 Freshly picked from our garden
In a Dutch oven, saute for about 5 minutes:
4 teaspoon minced garlic
2 medium Eggplant, peeled, diced, and sprinkled with salt (this extracts some of the excess liquid, and reduces any possible bitterness)


Cover and cook until soft, stirring occasionally – about 15 minutes.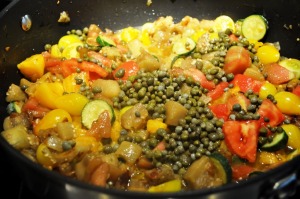 Add:
4 small Zucchini, sliced
6 – 8 medium Tomatoes, diced
2 Tablespoons Capers
1 teaspoon Arrabiata Spice – you can see what it contains here – we brought ours back from Rome
3 Tablespoons Fresh Basil, chiffonade (or 2 tsp dried Basil)
Salt and Pepper to taste


Continue to cover and cook, stirring occasionally for about another 15 minutes. When adding to pasta, I normally alternate layers of sauce and pasta to make blending easier and more thorough.


Top with cheese!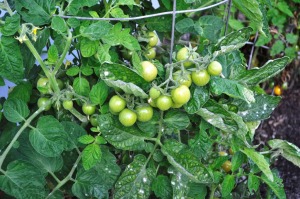 Tomatoes in our garden
These recipes are provided for your personal use. If you publish them, or re-post them, please give me credit. Grazie e Buon Appetito!