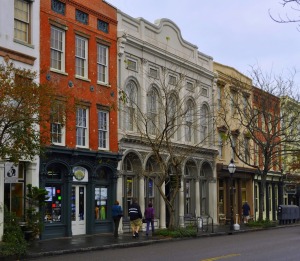 Hello, Everyone!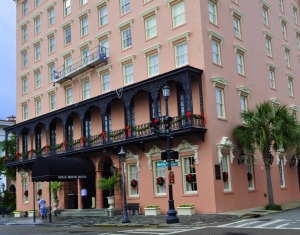 Mills House Hotel
We're back from our lovely vacation to Charleston, South Carolina, which is so gorgeous that we were ready to stay! As you may know, my husband, John, grew up in New Orleans and his family often vacationed at Isle of Palms which is just outside of Charleston. But this was my first visit, so, while John enjoyed many foods that evoked memories of family gatherings in his youth, I expanded my palate to try as many new things as I could.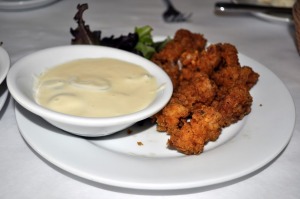 Some examples of Low Country cuisine I tried: She Crab Soup, Hoppin' John, Shrimp & Grits, Fried Alligator, Fried Green Tomatoes, Sweet Potato Pancakes with Pecan Butter, Carolina Brisket, Sauteed Turnips and Greens, Collard Greens, Grand Marnier Pecan Pie, Fried Chicken Breast served in a huge Biscuit topped with Sausage Gravy and Cheddar Cheese (this was called a "Small Plate" on the menu!), Hushpuppies, Benne Wafers.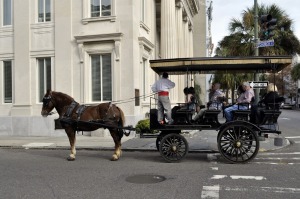 Horse-drawn Carriage Tour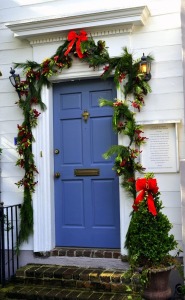 Some of the restaurants that we particularly enjoyed are: 82 Queen, Poogan's Porch, Magnolias, Hominy Grill, Hyman's Seafood, and Eli's Table.
We started our first day on a Charleston Stroll which left right from our hotel, The Mills House. Once we gained our bearings, we walked everywhere, only retrieving our car to drive to Middleton Place, formerly a rice plantation. On Wednesday night, we participated in a progresive dinner party at three historic inns and were transported by a horse-drawn carriage that was magical!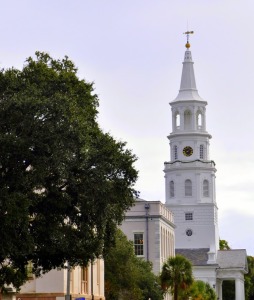 St. Michael's Church
Charleston is so unusually beautiful that we took almost a thousand photos. It was wonderful to go to a town where saying "Merry Christmas!" is not seen as an affront to anyone who may not be Christian. There were even Christmas Trees in the airport!
We should be back in the swing of things with our blog this week! In the meantime, here are some photos of Charleston.
These recipes are provided for your personal use. If you publish them, or re-post them, please give me credit. Grazie e Buon Appetito!