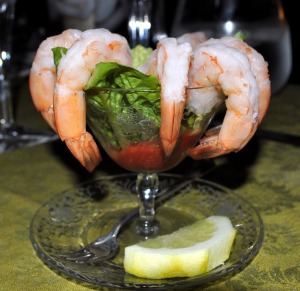 As far as I'm concerned nothing else this elegant is this easy to prepare. Line cocktail glasses with lettuce, fill the bowls about 1/2 way with Cocktail Sauce, then hang Shrimp around the edges of the glass. We defrosted pre-cooked Shrimp for this dish.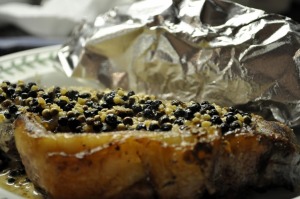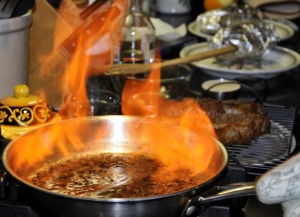 Pepper Steak is a particular favorite of ours and John has prepared it a number of ways, and they're all great. Our niece, Katie, gave John The Cook and The Butcher for his birthday, so he decided to try a new recipe. We used organic NY Steaks from Novy Ranches. This new method required the steaks to be drizzled with Olive Oil and sprinkled with Sea Salt. They were pan-seared, then set on a rack to rest for 30 minutes before being finished in the oven at 425 degrees. The sauce was really great, but the steaks were amazing! We could have cut them with a fork.
Baked Potatoes with Provencal Cheese
Rub potatoes in Crisco, then sprinkle with Sea Salt. Wrap in foil and bake at 375 degrees for 1 1/2 hours. We melted Provencal Cheese in our potatoes.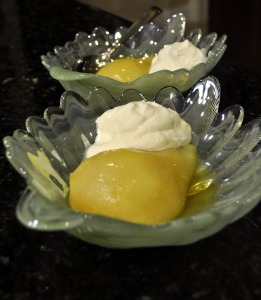 We've made and featured Riesling Poached Pears a number of times, but we love them. They're an elegant dessert that's easy to make while you're cooking dinner. For the Whipped Cream, whisk 2/3 cup cream with 1 teaspoon Vanilla and 1/4 cup Powdered Sugar on high in a stand mixer until stiff peaks form.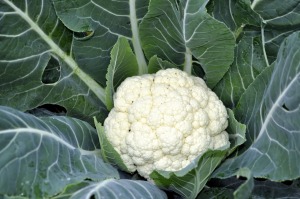 Cauliflower growing in our garden!
Wishing you a Happy New Year!
These recipes are provided for your personal use. If you publish them, or re-post them, please give me credit. Grazie e Buon Appetito!