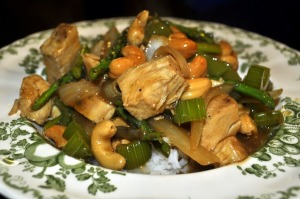 Prepare 1 cup White Rice according to package directions (we also like this with Brown Rice).
Thinly slice 2 Chicken Breasts, against the grain, then marinate in:
1 Tablespoon White Sherry
2 Tablespoons Soy Sauce
Salt and Pepper
Clean and slice:
1 Yellow Onion into thin wedges
5 stalks Celery into 1/4 inch pieces on the diagonal
1 bunch thin Asparagus cut into one-inch pieces
In a wok, heat 2 Tablespoons Vegetable Oil over high heat.
Quickly stir-fry Chicken in sauce.
Remove from wok, set aside, and wipe wok out with paper towels.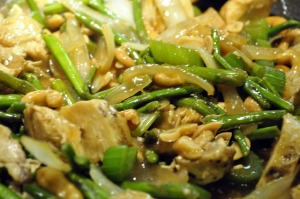 Add 2 more Tablespoons Vegetable Oil to wok and stir-fry vegetables until they are bright and still slightly crunchy.
Stir together:
1 cup Chicken broth
3 T Soy Sauce
2 T White Sherry
1 teaspoon Sriracha Hot Chili Sauce
2 teaspoons sugar
Then return Chicken to wok and pour sauce in.
Then stir in 1 cup roasted Cashews.
When Chicken is heated through, pour in:
2 teaspoons cornstarch dissolved in 1/4 cup water
When sauce bubbles and thickens, remove from heat and serve over hot rice.
Print this recipe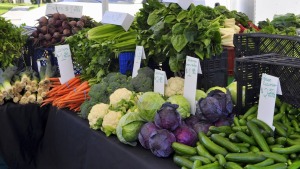 Fresh vegetables for sale at the Channel Islands Harbor Farmers' Market

These recipes are provided for your personal use. If you publish them, or re-post them, please give me credit. Grazie e Buon Appetito!