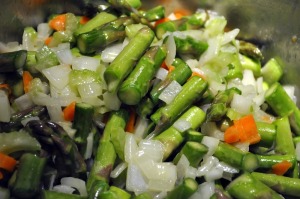 I love asparagus and have wanted to make asparagus soup for quite awhile, but it's usually so expensive that I only buy one bunch. But, this week, our local market offered it for 99 cents a bunch, so I bought 3! And, just my luck, fresh lump crab meat was on sale, too.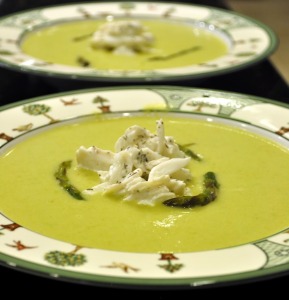 John made this amazing soup with a mirepoix base that's finished with cream and served around a mound of crab souffle. It reminded me of something you'd find in a high-end tea room in London – just so simple, elegant, and delicious!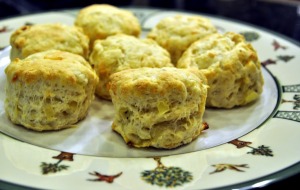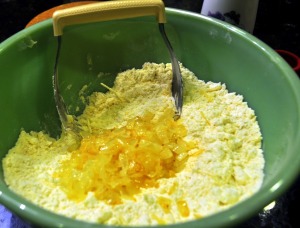 Stirring in sauteed onions
This soup was the perfect accompaniment to Saint Germain-des-Pres Onion Biscuits which is this week's French Fridays with Dorie challenge. I have to confess that Dorie's recipes are the only ones I use for making biscuits, and I make sweet and savory ones quite often for breakfast on the weekends. They rise so beautifully, and are perfectly crisp on the outside and soft on the inside.


I couldn't resist adding 1/3 cup shredded Parmesan Cheese to the dough – it was a great finishing touch.



These recipes are provided for your personal use. If you publish them, or re-post them, please give me credit. Grazie e Buon Appetito!