We are lucky enough to find organic beef from Novy Ranches at our Farmers' Market. We tried several of their cuts, but this one was new to us. John has perfected this roasting process. And Gorgonzola and Steak are a perfect flavor combination.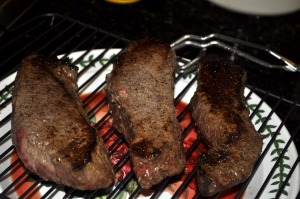 Brush steaks with a rich olive oil, like Manzanillo
Sprinkle with Garlic Salt and Pepper and let rest for about 15 minutes
Drizzle enough olive oil into the bottom of a cast iron skillet to lightly coat it
Sear steaks on each side – about 5 minutes a side
Remove steaks from pan and let rest on a rack for half an hour
Meanwhile, pre-heat the oven to 450 degrees
Return the steaks to the cast iron skillet and place it in the oven for 10 – 15 minutes depending on your preference (12 minutes is medium; 15, medium-well)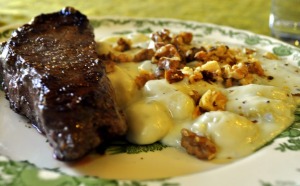 Gnocchi with Gorgonzola Cream Sauce and Toasted Walnuts
Gnocchi are lovely potato pasta dumplings that were a favorite of mine as a kid. And we loved this sauce!
Prepare Gnocchi according to package directions
Pre-heat oven to 350 degrees
Line a baking sheet with foil and scatter 1/3 cup Walnuts on it
Bake for 10 minutes
Remove from oven, and set aside
In a medium skillet, melt 4 Tablespoons Butter
Stir in 1/4 cup Flour
Then whisk in 2 cups Milk
Continue to whisk until sauce thickens
Then stir in 1/2 cup Gorgonzola Cheese
When cheese is melted, turn off heat and stir drained Gnocchi into sauce.
Top with Toasted Walnuts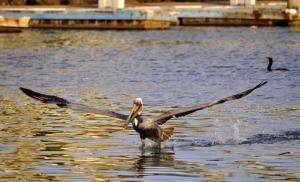 California Brown Pelican taking off – Cormorant in the background
These recipes are provided for your personal use. If you publish them, or re-post them, please give me credit. Grazie e Buon Appetito!