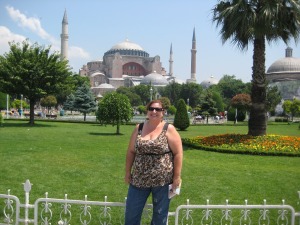 Me in front of Hagia Sophia, Istanbul, Turkey
John and I visited Turkey on our honeymoon and fell in love with it. We've been talking about going back ever since. I was very honored to receive 2 awards from my new blogger friend, Ozlem at Ozlem's Turkish Table. I've received and passed on the "Versatile Blogger Award" several times, so although I accept it graciously, I will not pass it on this time. But the "One Lovely Blog Award" is new to me, so I am happy to accept it and share it. Please take some time to visit Ozlem's blog – Turkish cuisine is wonderfully flavorful.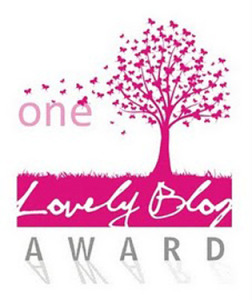 The Rules of Acceptance:
Thank the person who gave you this award

Include a link to their blog

Next, select 5 blogs/bloggers that youโ€™ve recently discovered or follow regularly.

Nominate those bloggers for the Awards

Finally, tell the person who nominated you 7 things about yourself.

In the same post, include this set of rules.

Inform each nominated blogger of their nomination by posting a comment on each of their blogs.
The best part of this award is that I get to share it with other accomplished bloggers. Please take a few moments to check out their blogs:
3. I love the smell of citrus blooms
5. One day, I will make croissants
6. I've been to the Hard Rock Cafe in London
7. I met George Burns in Phoenix many years ago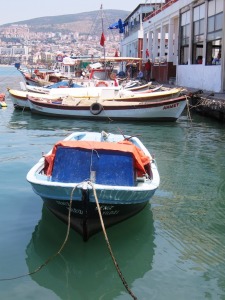 Kusadasi Harbor, Turkey
These recipes are provided for your personal use. If you publish them, or re-post them, please give me credit. Grazie e Buon Appetito!