Cornish Pasties are wonderful meat and vegetable pies enveloped in flaky pastry that are common throughout England. I had the great fortune of working for an English company for a year and a half, and got to
spend a total of 6 weeks working
in Nottingham. On those trips, I would often get Pasties for lunch. What John & I made are inspired by Pasties. For an interesting history of Pasties, click here.
Spring Mix
2 Carrots, cut into matchstick pieces
2 ribs Celery, diced
1 Tomato, seeded and diced
2 Spring Onions, finely sliced
1 Avocado, peeled, seeded, and diced


We served this salad with a choice of Green Goddess and Country French Vinaigrette from Penzeys.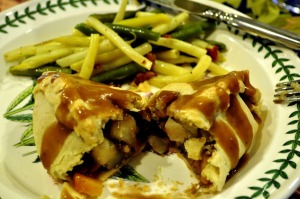 Steak and Vegetable Pies with Gravy
Pre-heat oven to 375 degrees.
Make Pastry
Make Filling
Create Steak Pies
Make Gravy while Steak Pies are baking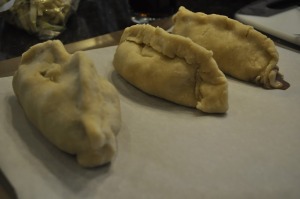 Pastry
In a medium bowl, mix the following ingredients together with a pastry cutter:
2 1/2 cups Flour
2 1/2 teaspoons Cornstarch
2 teaspoons Salt
Then, blend in 3/4 cup Shortening.
Sprinkle 1/2 cup Ice Water over dough and blend until thoroughly combined.
Shape dough into a rectangle and cut into 6 equally sized pieces.
Roll each into 8″ circles.
Stack the pastry circles with wax paper between each piece, and refrigerate until ready to use.
4 Tablespoons Butter
4 Spring Onions, coarsely chopped
When onions have softened, stir in:
2 Russet Potatoes, cut into 1/2″ cubes
4 Carrots, cut into 1/4″ cubes
Cook, stirring often, for about 10 minutes.
Sprinkle 3 Tablespoons Flour over vegetables.
Add Salt and Pepper, to taste
Stir to coat vegetables and continue cooking for about 2 minutes
Then
Deglaze with 1 Cup Red Wine.
Add:
1 Cup Beef Broth
1 Tablespoon Worcestershire Sauce
2 Cups finely chopped cooked Steak (we used left-over London Broil)
Continue cooking and stirring until sauce thickens & bubbles (about 10 more minutes).
Fold pastry circles in half and roll edges together (1 – 1 1/2 inches).
Stand pouches upright and place about 1/2 cup filling inside.
Roll edges and press all the way around.
You don't have to be too precise because these are meant to be rustic pies.
Place filled pies on a parchment paper lined baking sheet.
Cut two 1/2-inch slits in the top of the pies to vent.
Bake for 45 minutes.
Drizzle with gravy and serve.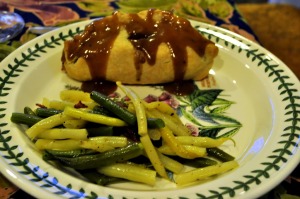 Gravy
In a medium skillet, over medium heat:
Melt 3 Tablespoons Butter
Stir in 2 Tablespoons Flour until butter is absorbed
Whisk in 1/2 cup Red Wine and 1 cup beef broth
Salt & Pepper, to taste
Stir until thick & bubbly
Then add 1 Tablespoon Beef Demi-Glace
Stir until color is uniform
Keep warm over low heat until ready to serve
Add 1″ water and 1 teaspoon Salt to a pan with a lid
Clean Green Beans and Wax Beans and cut in half.
Cover with lid and steam over medium-high heat for 8 – 10 minutes.
Drain and toss with 2 Tablespoons Butter
Crumble 3 sliced cooked bacon over beans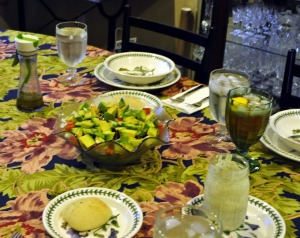 These recipes are provided for your personal use. If you publish them, or re-post them, please give me credit. Grazie e Buon Appetito!