Pre-heat the oven to 350 degrees.
In a small saucepan,over medium heat, stir:
2 cups Milk
2 Tablespoons butter
When butter is melted, remove from heat.
Set aside.
In an oven-proof casserole dish (I use a 2 1/2 quart Corning Ware casserole with a glass lid), whisk:
3 eggs
1/2 cup Sugar
1/2 teaspoon freshly ground Nutmeg
1 teaspoon Vanilla Extract
Slowly pour the warm milk and butter into the egg mixture, whisking until sugar is dissolved.
Then, stir in 1 cup Cooked Rice.
Bake for 30 minutes.
Serve warm with, or without, milk.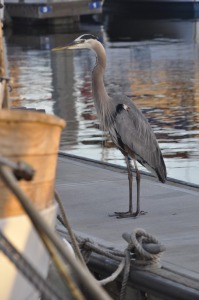 Great Blue Heron – Ventura Harbor, CA
These recipes are provided for your personal use. If you publish them, or re-post them, please give me credit. Grazie e Buon Appetito!