On the heel of an unusually cool Spring, Summer has arrived in Southern California! So, we decided to have a simple dinner of grilled chicken. We often grill a couple of extra pieces to use later for salad. pasta, risotto, etc.
On a grill, over medium heat, cook chicken for 6 -7 minutes on each side.
Iron Skillet Roasted Potatoes
John perfected these potatoes using a seasoned cast-iron skillet on the grill.
1 pound assorted red potatoes, quatered
2 spring onions, quartered
Place in pan and coat in olive oil
Place pan on the grill over a high flame, stirring potatoes every 10 minutes until they're roasted brown and the onions are carmelized.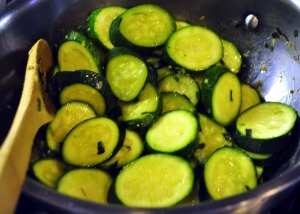 Slice 3-4 medium zucchini and place in a bowl. Sprinkle with salt and let sit about 5 minutes.

In a large skillet over medium heat, sautee:
1/4 cup Olive Oil
Prepared Zucchini
1 bunch of green onions, chopped

Stir often to cook evenly, until tender. Sprinkle with a scant teaspoon of sugar to cut the bitterness of the squash. Top with grated parmesan cheese.


These recipes are provided for your personal use. If you publish them, or re-post them, please give me credit. Grazie e Buon Appetito!