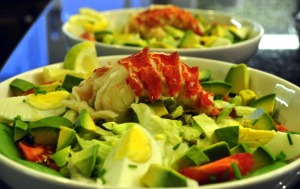 Louis Salad is typically made with Shrimp or Crab Meat, but it translates beautifully to Lobster.


In two large bowls, layer:
Shredded Iceberg Lettuce
Hard boiled Eggs, cut into wedges
Tomatoes, cut into wedges
1 Avocado, diced
We added blanched Sweet Peas from our garden, but you can use Asparagus Spears instead
Sprinkle salads with minced Chives and 1 teaspoon Capers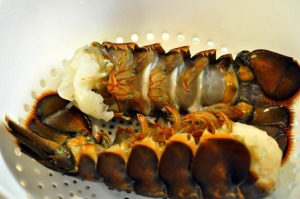 In a shallow skillet, over medium heat, poach 2 Lobster Tails Lobster for 8 minutes in:
1 cup White Wine
2 cups Seafood Broth
1/2 teaspoon Sunny Spain Seasoning


Remove Lobster Tails from poaching liquid and cut Lobster Tails along the underside of the tail with cooking shears and remove the meat.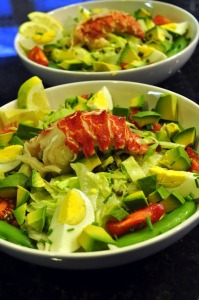 Place shelled Lobster Tails on top of salad and drizzle with Louis Salad Dressing.
John usually makes this from scratch, but we found this pre-made dressing from Paladini and decided to try it. And, it was pretty good – and made our weeknight dinner easy to prepare.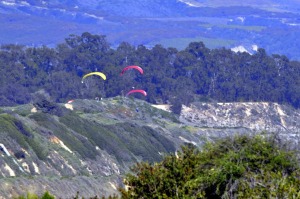 Hang Gliders over Carpinteria Bluffs, CA
These recipes are provided for your personal use. If you publish them, or re-post them, please give me credit. Grazie e Buon Appetito!