After eating the wonderful Grill-Smoked Pork Shoulder with Spice Rub for dinner, making Pulled Pork Sandwiches, and Quesadillas with it, we still had quite a bit left, so we decided to make soup. We found a traditional recipe for Ham and Bean Soup in the Better Homes and Gardens New Cookbook, but thought it was too boring, so we amped it up with vegetables. Here's a California take on a classic.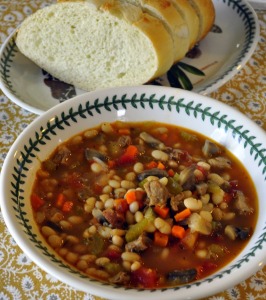 California-style Pork and Bean Soup
Rinse one pound of Dried Navy Beans and place them in a stock pot with 4 cups of water.
Bring water to a boil, reduce heat to low and simmer for 2 minutes.
Remove from heat, cover pan with a lid, and let sit for an hour.
Strain beans and return to stock pot with 4 cups fresh water.
Stir in:
3 teaspoons Penzey's Ham Soup Base and Seasoning
1 teaspoon Bouquet Garni
1/2 teaspoon Garlic Powder
Simmer over low heat for 1/2 hour.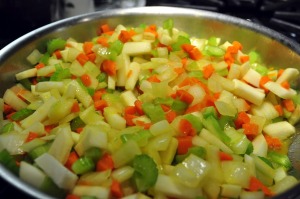 While the beans are simmering, prepare the vegetables.
In a large skillet, over medium heat, saute:
3 Tablespoons Olive Oil
2 Carrots, diced into tiny cubes
2 Turnips, finely diced
3 ribs Celery, finely chopped
1 Onion, finely diced
Stir frequently until vegetables become tender.
Remove from heat and set aside.
Chop 8 ounces Mushrooms into large diced pieces.
Chop 1 pound cooked Pork into small cubes.
When bean have simmered for 1/2 hour, stir in:
Reserved cooked vegetables
Mushrooms
Pork
1 15-ounce can Diced Tomatoes with Sauce
Stir until well combined, then cover and allow to simmer for one hour, stirring occasionally.
Test beans to make sure they have softened – you may find they need to simmer a bit longer.
Add Salt and Pepper, to taste.
These recipes are provided for your personal use. If you publish them, or re-post them, please give me credit. Grazie e Buon Appetito!