One of the gifts I gave John for his birthday was a Marseilles Blue Wok from Le Creuset. When I bought it, the saleslady told me it had just arrived from Paris the day before – I told her that I wish I'd just arrived from Paris, too! Because John does all the Asian-inspired cooking in our house, I thought he'd really enjoy a top quality wok. This is the first dish he's cooked in it, and it was delicious. You really can use whatever crunchy, fresh vegetables you have on hand to create a quick, delicious summer meal.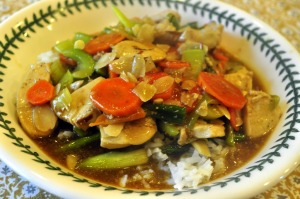 Chicken and Asparagus Stir-fry with Almonds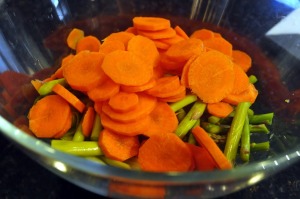 Thinly slice 2 boneless chicken breasts, across the grain.
Sprinkle with: Salt, Pepper, and Garlic Powder.
Marinate in: 2 Tbsp Soy Sauce and 2 Tbsp Dry White Sherry
In a measuring cup, combine:
1 cup Chicken Broth
2 Tbsp Soy Sauce
2 Tbsp Dry White Sherry
1 tsp Sugar
In a small bowl, combine:
2 tsp Corn Starch
1/2 Cup Water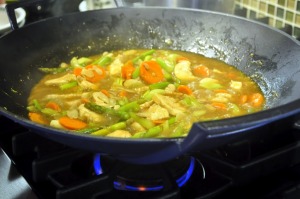 12 – 15 stems Asparagus, sliced diagonally into 1″ long pieces
4 ribs Celery, cut diagonally
2 Carrots, peeled and thinly sliced into coins
4 Green Onions, cut into 1″ long pieces, then sliced in half length-wise
Heat 1 Tbsp Vegetable Oil in a wok, or deep skillet over medium-high heat. Add chicken, stirring until white all the way through. Remove from wok and place in a clean bowl.
Wipe out wok with a paper towel.
Put wok back on burner and add another Tbsp of Vegetable Oil.
When oil is hot, add Vegetables, stirring until Carrots and Celery are only slightly cruchy.
Add Chicken back in, and drizzle with Chicken Broth mixture until everything is well-coated.
Then stir in Corn Starch mixture stirring until sauce thickens.
Sprinkle with 1/2 cup sliced Almonds.
Serve over steamed white, or brown, rice.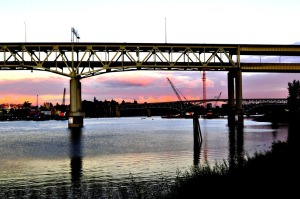 Sunset over the Willamette River, Portland, Oregon
These recipes are provided for your personal use. If you publish them, or re-post them, please give me credit. Grazie e Buon Appetito!