Grill-Smoked Pork Shoulder with Spice Rub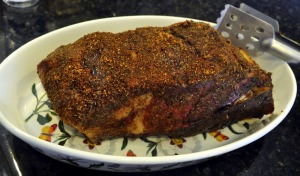 After 5 hours on the grill.
Our niece, Katie, gave John this wonderful cookbook for Christmas last year, The Cook & the Butcher. Everything he's made from it has turned out great! This recipe is definitely one for the weekend – it takes almost seven hours all told, but it's just delicious. The pork is so tender and infused with wonderful flavor. First the meat is rubbed all over with olive oil and a spice and brown sugar blend, then set to rest for one hour, then slow roasted and smoked on the grill. Once it's removed from the grill, it rests for 20 minutes before slicing.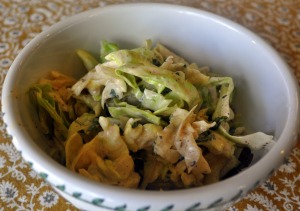 Creamy, cool & delicious!
This delicious recipe is from the same cookbook. You can find it here if you scroll to page 214. I left out the Jalapeno. We both really enjoyed this fresh take on Cole Slaw and thought it would be wonderful on Fish Tacos!
It's true, we've been eating a lot of corn lately – but it's just so good right now! As a kid, I ate creamed corn from a can and I liked it. But, when I saw this recipe in the August/September Issue of Fine Cooking magazine, I really wanted to try it. It was so easy & delicious that I'm sure it will become a regular side-dish in our repertoire.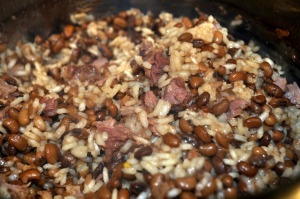 When John and I visited Charleston in December, we brought back Cowpeas and Carolina Gold Rice. Hoppin' John is a truly Southern dish that is imbued with pork flavor – we used a ham hock in ours.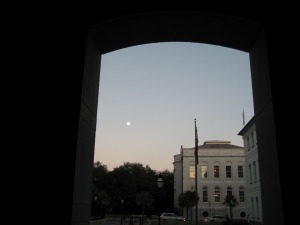 Winter Moonrise in Charleston
These recipes are provided for your personal use. If you publish them, or re-post them, please give me credit. Grazie e Buon Appetito!