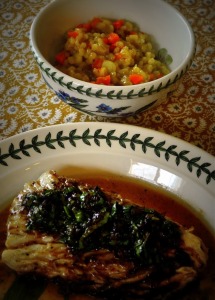 This week's French Fridays with Dorie challenge is for Salmon with Olive Tapenade. Since neither one of us cares for Salmon, we made this recipe with White Sea Bass we bought from Fresh Fish Fanatics right off their boat at the Channel Islands Farmers' Market. Dorie suggested that the fish would be even better with Mango Chatini – and, we just happened to have a ripe mango in our fruit bowl. Thinking of what else to serve with this fish dish, I looked at next week's recipe, Lemon Barley Pilaf, and thought it would be perfect. So, this week, we present a Dorie trifecta!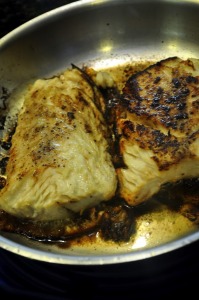 White Sea Bass with Olive Tapenade and Mango Chatini
This recipe combines the fresh flavors of lemon and basil with the rich flavor of olives in a way that allows them to seep into the fish. By cutting slits into the side of the fillets, and infusing them with the herb and tapenade mix, Dorie created a method that infuses the fish with flavor. Once the fish is cooked through a combined method of pan frying and baking, it's topped with a vinaigrette.
We use fresh basil from our garden and Olive Tapenade from Pasolivo. We loved all the flavors in this recipe and talked about other variations with this method. Although this fish turned out perfectly, we thought we could use this method on the grill with far less mess to clean up.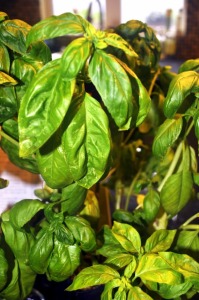 I was a little skeptical about the combination of flavors with mango and cilantro, but it was heavenly! The Mango Chatini is a simple condiment that we would call "Mango Salsa" in SoCal. It's easy to make and its fresh flavor is an nice accompaniment to fish, chicken, and salads.
This super-simple side-dish is surprisingly filled with flavor. I left out the bell pepper, but I think this pilaf forms a nice base for all kinds of vegetables – peas, green beans, etc. I think it's a good substitute for rice with any number of main dishes.
I am thrilled that Dania from Fresh Fish Fanatics mentioned my blog in her weekly newsletter. Please note: All 3 of these recipes come from a cookbook called "Around my French Table" by Dorie Greenspan. I belong to an on-line group that is working our way through the book – as part of our participation agreement, we cannot re-print the recipes. However, I did find the original recipe on-line which is hyper-linked from the first sentence of my post. We substituted White Sea Bass for Salmon. To see how other members of the group fared with Salmon, check out this website: French Fridays with Dorie .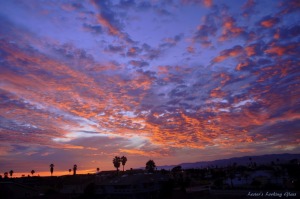 Sunset view from our rooftop – looking towards Ventura
These recipes are provided for your personal use. If you publish them, or re-post them, please give me credit. Grazie e Buon Appetito!