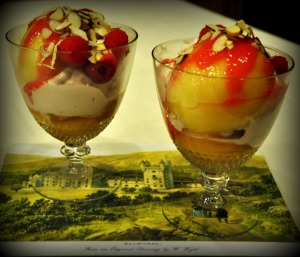 Grab a spoon!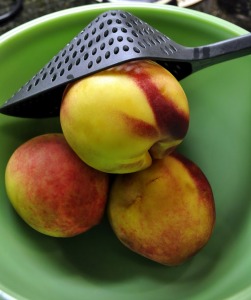 Peaches ready to be peeled
This week's French Fridays with Dorie challenge is for classic Peach Melba. We indulged in the Bonne Idee and made Dorie's Raspberry-Cassis Ice Cream as well. I love peaches, raspberries, and home-made ice cream, so I really wanted to love this dessert. Let me start by saying that the Raspberry-Cassis Ice Cream is incredible – creamy, flavorful, and custardy (yes, I just made that word up!). Maybe that was the problem – the ice cream was so good that everything else paled by comparison.
Riesling (or Moscato) Poached Pears are one of our favorite desserts and we make them often. When we make the pears, we cut them in half and poach them for about 20 minutes. So, I wondered why the peaches were poached whole, then halved later. Next time, I will follow our method as the sauce was amazing. As it was, following the recipe, I think that fresh peaches would have been just as good. and far less work.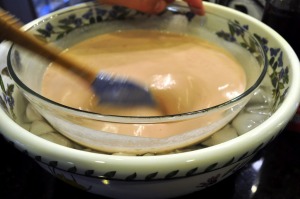 Raspberry-Cassis Ice Cream in the making!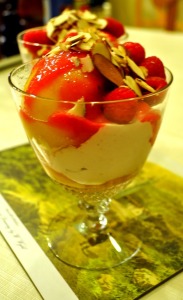 Cool, creamy, fresh, and delicious
So, the verdict? It's like that new movie that all your friends rave about that you finally get to see and wonder what all the fuss was about. The Raspberry-Cassis Ice Cream totally steals the show.
In the meantime, I cut the remaining two peaches up to soak in the sauce and I'm looking forward to more of that ice cream!
These recipes are provided for your personal use. If you publish them, or re-post them, please give me credit. Grazie e Buon Appetito!