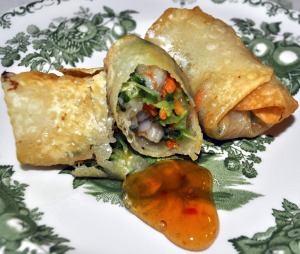 Egg Rolls are great – they can be served as a snack, appetizer, or a meal. John made these with fresh-cut Daikon Radish Sprouts, vegetables, and shrimp. They can be garnished with any number of sauces – or your own custom blend. We placed Sriracha, Colman's Mustard, Soy Sauce, Sweet Chili Sauce, and Plum Sauce and mixing bowls on our table.
2 Tablespoons Vegetable Oil
2 ribs Celery, finely chopped
6 Green Onions, sliced
1 cup Daikon Radish Sprouts
Salt and Pepper, to taste
When vegetables soften slightly and brighten in color, stir in:
10 large Shrimp, each cut into 4 pieces
Remove from heat.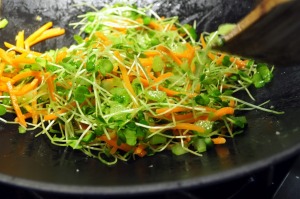 Mix 1 teaspoon Corn Starch with a few drops of water to form a paste.
Set aside.
Place Egg Roll wrapper on a tray with a point towards you, so it makes a diamond.
Place 3 heaping Tablespoons of Vegetable/Shrimp mixture in the center of the wrapper.
Fold top corner over the top of the filling – about 2/3 towards the bottom corner.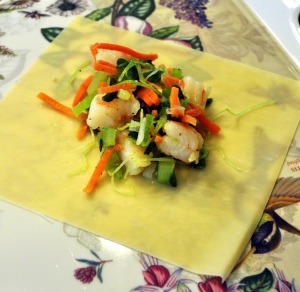 Fold left and right corners towards the middle, tightly around filling, then roll toward bottom corner, rolling tightly.
Paint bottom corner with reserved Corn Starch Paste, and seal.
Continue until all filling has been used – this recipe should make about 16 Egg Rolls.
In a deep sauce pan, bring 3 – 4 cups Vegetable Oil to medium-high heat.
Fry Egg Rolls 2 at a time until golden brown.
Serve with your choice of sauces while still hot.
They can be kept warm in the oven.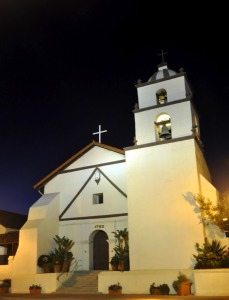 San Buenaventura Mission at night, Ventura, CA
These recipes are provided for your personal use. If you publish them, or re-post them, please give me credit. Grazie e Buon Appetito!