It's getting to be soup weather! This hearty, flavorful soup is sure to warm your belly and your soul. The crispy, salty crust and sweet, soft inside of the bread provide the perfect accompaniment to the soup.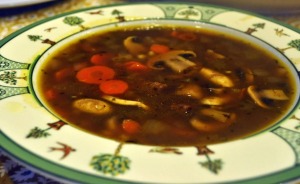 Beef, Barley & Vegetable Soup
Cut a 1-pound Top Sirloin (or other boneless steak) into 1/2-inch cubes, discarding excess fat.
Sprinkle with: flour, salt, and pepper.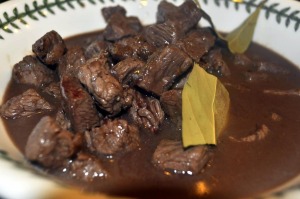 Browned meat with wine sauce and bay leaves
In a stockpot, over medium heat, brown meat in 2 Tablespoons Vegetable Oil.
When meat is browned, deglaze pot with 1/4 cup Red Wine.
Remove meat and sauce from pan and set aside.
Return stockpot to burner and add 2 more Tablespoons Vegetable Oil.
Add:
1 Onion, diced
3 Carrots, finely sliced
2 ribs Celery, diced
2 teaspoons minced Garlic (equivalent of 2 cloves)
Cook, stirring occasionally, until onions soften.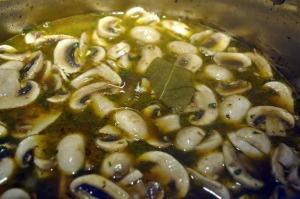 Ready to simmer
Then, pour in 8 cups Beef Stock.
Return reserved meat and sauce to stockpot.
Add :
8 ounces sliced white mushrooms
1 Tablespoon Tomato Paste
1/3 cup Pearl Barley
2 Bay Leaves
1 teaspoon dried Thyme (or a sprig of fresh)
Simmer over medium-low heat for 1 hour.
Add Salt and Pepper to taste.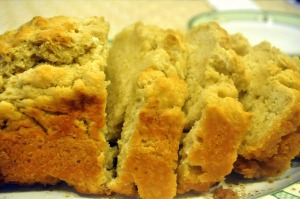 Yummy goodness with a crispy crust
Preheat oven to 350 degrees.
Melt 1/2 cup Butter and set aside.
In a medium bowl, stir together:
3 cups Flour
3 Tablespoons Sugar
1 Tablespoon Baking Powder
1 teaspoon Salt
Pour 1 12-ounce Bottle Beer into dry ingredients and gently fold in with a rubber spatula.
Pour half of melted Butter into a loaf pan, add the batter, then pour the remaining Butter on top.
Bake for 1 hour.
Let rest in pan for 5 minutes, then turn out onto a serving platter.
Slice, and serve warm.
These recipes are provided for your personal use. If you publish them, or re-post them, please give me credit. Grazie e Buon Appetito!