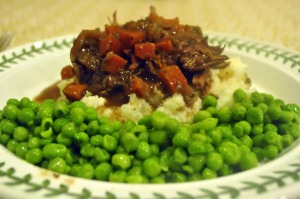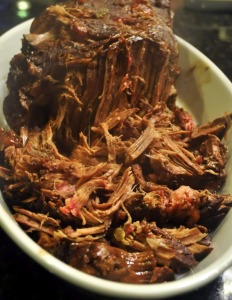 So tender, you can shred it with a fork
Our niece, Katie, gave John a copy of The Cook and the Butcher for his birthday last year. We turn to it often, and every recipe we've tried from it has been stellar. This one is no exception. Be sure to plan ahead, though, because it takes about 6 hours all together. You can find the recipe by clicking here and scrolling down to page 77. I made 2 changes to the recipe: Chuck Roast instead of Brisket; and a Sicilian Sangiovese instead of an Australian Shiraz. This meal was comfort food at its best!
Sour Cream Mashed Potatoes
Peel and cube 4 Russet Potatoes.
Place them in a large saucepan and cover with water.
Add 1 teaspoon of Salt to the water and boil for 15 – 20 minutes over medium-high heat until the Potatoes can be easily pierced with a fork.
Turn off heat.
Strain Potatoes and return to pan.
Add 1/4 cup Butter.
1/2 cup Sour Cream.
Salt and Pepper, to taste.
Mash with a Potato Masher until they reach the desired consistency.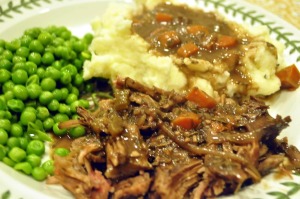 For the Buttered Peas, steam frozen peas according to package directions and stir in 1 Tablespoon Butter and Salt, to taste.
These recipes are provided for your personal use. If you publish them, or re-post them, please give me credit. Grazie e Buon Appetito!