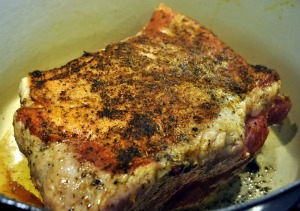 I know I've mentioned this great cookbook before, but every recipe we've made from it has turned out great! We followed the instructions in The Cook & The Butcher but customized the spices.

Allow a 4 1/2 pound Pork Shoulder to come to room temperature.

In the meantime, make a rub of:
1 Tablespoon Turkish Seasoning (like I said, we made a couple of changes)
4 cloves Garlic, minced
4 Tablespoons Olive Oil
1/2 teaspoon each, Salt & Pepper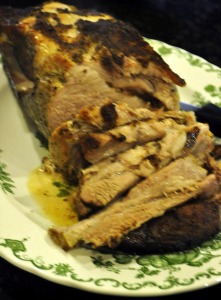 Spread rub all over Pork.

Pre-heat oven to 425 degrees.

Place a large, oven-proof French Oven on the stove over medium-high heat.
Add 4 Tablespoons Olive Oil and heat.
Sear the Pork on all 4 sides.
Then, place the lid on the French Oven and put in the oven.
After 15 minutes, reduce heat to 325 degrees for 45 minutes.
Turn oven off and let roast rest for 1 hour without opening the oven.
With roast in the oven, turn temperature to 450 degrees.
When temperature reaches 450 degrees, let roast bake for 15 minutes.
Remove from oven and let rest for 10 minutes.
Slice against the grain and serve with Mojo Sauce.



In a 2-cup pitcher, or measuring cup, whisk:
2 Shallots, finely minced
Zest of one orange, grated
Juice of one orange
3 cloves Garlic, finely minced
3/4 cup Italian Flat Leaf Parsley, chopped
Salt & Pepper, to taste
(We had leftover sauce and used it for Tuna en Papillote, but it would be so good with steak, or chicken, too!)
Peel and dice 2 large Sweet Potatoes (or Yams)
Place in a medium saucepan and fill with water until they're covered.
Sprinkle a little salt into the water.
Bring to a boil over medium-high heat and cook for 15 – 20 minutes until they can be easily pierced with a fork.
Strain Sweet Potatoes and return to pan.

Stir in:
1/4 cup Butter, cubed
1/4 cup Maple Syrup
Salt & Pepper, to taste
Mash with a potato masher until the reach the desired consistency
clean 1 pound fresh Green Beans and place them in a large skillet.
Cover with water and sprinkle with Salt.
Bring to a boil and cook for about 10 minutes until softened.
Strain Green Beans and set aside.
Rinse and dry skillet and return to stove.
Over medium-high heat, saute:
1 onion, diced into large pieces
2 Tablespoons Bacon Fat (or Olive Oil)
When Onion has softened, add 1 cup Cherry Tomatoes, halved
When Tomatoes begin to break down, return Green Beans to pan.
Stir until vegetables are warmed through and sprinkle with 2 sliced cooked Bacon.
Add Salt & Pepper, to taste.
These recipes are provided for your personal use. If you publish them, or re-post them, please give me credit. Grazie e Buon Appetito!