Cake mixes – Yay, or Nay? I say, "Yay!" Several of my blogging friends and I have discussed this over the years. Cake mixes were created to make life easier but that doesn't mean we can't make them better with personal touches.

My brother's wife, Stephanie, just completed a 2-year long nursing program and I wanted to make something special for her celebration party. When I searched for "German Chocolate Bundt Cake" online, I found nothing but people raving about stirring a can of frosting into a cake mix. I knew that would never do, so I reached back into my baking archives.

I stuck with the cake mix but made home-made frosting. When I was a kid in Naples, we lived next door to a family named the Cranks. My brother was best friends with Jody and we spent hours at their house with her younger sister, Wendy, reading comic books. Their mom, Charlene, was a wonderful cook and she taught me how to make a lot of things. The one that has endured since I was 11 years-old is this cooked coconut frosting. I usually make it with walnuts, but switched them out for pecans for this cake.


Cooked Coconut-Pecan Frosting
Place a medium saucepan, over medium heat.
Melt 4 ounces (1 stick) Butter.
Whisk in:
3 Tablespoons Flour
1 1/2 cups Sugar
Then slowly pour in:
1 1/2 cups Milk
Whisk until thickened – about 6 minutes.
Remove from heat and stir in:
1 teaspoon Vanilla Extract
1 cup Coconut, shredded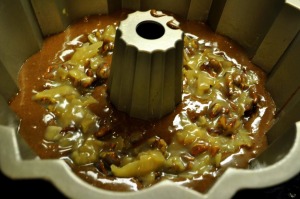 To assemble and bake the cake

Pre-heat the oven to 350 degrees.

Mix a German Chocolate Cake according to package directions (I used Betty Crocker).
Spray a 10 – 12 cup Bundt pan with non-stick baking spray.
Pour 2/3 of the batter into the bundt pan, then scoop half of the frosting into the center of the batter, trying to keep it from touching the sides of the pan.
Top with remaining 1/3 of batter.

Bake for 45 minutes.
Remove from oven and allow cake to sit for about 15 minutes before turning out onto the serving plate (I usually place the plate on top of the Bundt pan,then flip it over and center the cake after removing the pan.
Allow cake to cool completely, then top with remaining frosting.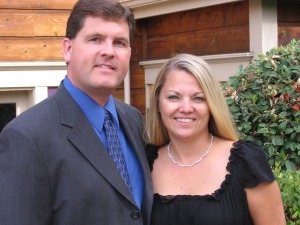 Michael & Stephanie at our cousin Jenny's wedding
Congratulations, Stephanie!
These recipes are provided for your personal use. If you publish them, or re-post them, please give me credit. Grazie e Buon Appetito!