My sister-in-law, Susan, hosted Christmas dinner and she made wonderful Moussaka. John's other sister, Pam, made a delicious Greek Salad. Our contribution was these crisp appetizers and Greek Rice Pilaf.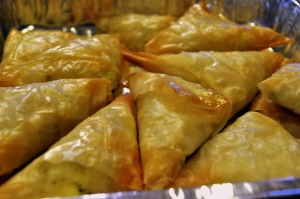 Greek Cheese Triangles
Greek Cheese Triangles and Spanikopita

This recipe makes about 80 appetizers, so you may want to freeze some.

Thaw out one package of frozen Phyllo (approximately 18″ x 13″) according to package directions.

When ready to begin: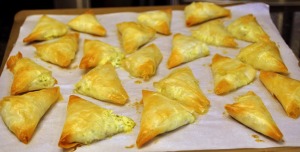 Line baking sheets with parchment paper
Preheat oven to 400 degrees

For Cheese Filling:
In a large bowl, whisk together:
8 ounces Feta Cheese, crumbled
1 cup Ricotta Cheese
1/4 cup Italian Flat Leaf Parsley, finely chopped
2 Eggs
Black Pepper, to taste

Divide filling in half, and set one bowl aside.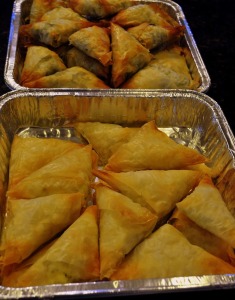 Prepare several baking sheets by covering with parchment paper.

Melt 1 stick of butter in a microwave safe bowl (30 seconds).

Using a pizza cutter, cut Phyllo into 5 strips of equal width.
Work with one stack at a time and keep the other 4 covered with plastic wrap.

Using a pastry brush, brush the length of one strip of Phyllo with melted Butter.
Place 1 Tablespoon of cheese filling on the lower left-hand side of each strip, then fold upwards to form a triangle.
Turn pastry over and over forming a tight triangle.
Tuck loose Phyllo under the bottom and place on prepared baking sheet.
Brush top with melted Butter.
When sheet is full, bake for 15 minutes.

Cheese Triangles can be frozen at this point, just leave butter off the tops and layer between sheets of parchment paper in an air-tight container.

For Spinach Filling: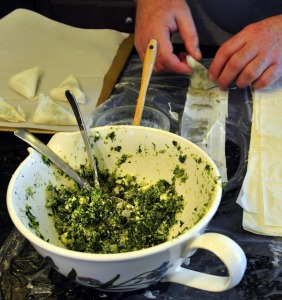 Assembling the Spanikopita
Thaw one 15-ounce package frozen Chopped Spinach, pressing between paper towels to remove excess liquid.

In a medium skillet, saute:
2 Tablespoons Butter
1/2 Onion, finely diced

When onion begins to soften, stir in:
Spinach
1/4 cup Fresh Dill, minced

When heated through, remove from heat and combine with reserved Cheese Filling.

Create triangles using the same method used for the Cheese Triangles.
Bake for 15 minutes.

To re-heat these, place them on a baking sheet in a single layer.
Whether we want them or not, the New Year will bring new challenges; whether we seize them or not, the New Year will bring new opportunities. ~Michael Josephson
These recipes are provided for your personal use. If you publish them, or re-post them, please give me credit. Grazie e Buon Appetito!