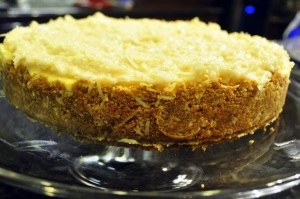 I made this creamy cheesecake to finish off our wonderful New Year's Eve dinner. The secret is the sour cream. I may toast the coconut for the topping to intensify the flavor next time, but this cheesecake is perfect just as it is.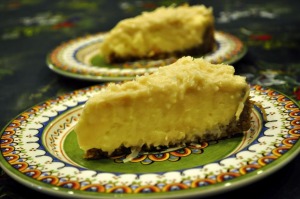 Preheat oven to 325 degrees.
In a medium bowl, use a fork to blend:
2 cups Graham Cracker Crumbs
1 cup Sweetened Flaked Coconut
1/2 cup Butter, melted
When fully combined, press into a 10-inch springform pan.
Let crust rest in refrigerator while you prepare the filling.
Put 4 – 5 cups Water on to boil.
In a stand mixer, whip:
2 8-ounce packages Cream Cheese, softened, until fluffy.
Gradually pour in 1 cup Sugar.
Scrape down sides of bowl with a rubber spatula, then add 3 Eggs, one at a time.
Add:
2 cups Sour Cream
2 teaspoons fresh Lime Juice
1 teaspoon Vanilla Extract
Blend until thoroughly combined.
Pour into chilled crust.
Wrap bottom of pan tightly with foil and place into a large roasting pan.
Carefully pour hot water into roasting pan until the level is about halfway springform pan (check halfway through baking time to see if you need to add more water).
Bake for 1 hour and 15 minutes until cheesecake is set.
Remove pan from water and remove foil from the bottom.
Set on a rack and allow to cool.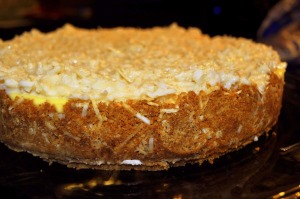 Then move to refrigerator for at least 4 hours.
Remove from springform pan and place on cake plate.
Just before serving, mix topping.
In a small bowl, whisk together:
1/2 cup Sweetened Condensed Milk
1 1/2 cup Sweetened Flaked Coconut
When thoroughly combined, pour on top of cheesecake and spread evenly.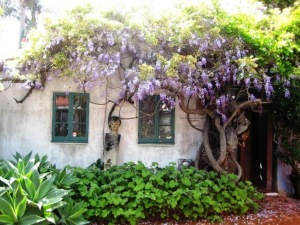 Santa Barbara Courtyard
These recipes are provided for your personal use. If you publish them, or re-post them, please give me credit. Grazie e Buon Appetito!