I love Lemon Bars but I was craving an orange-flavored dessert, so I concocted this new twist on an old favorite! Oranges are plentiful in SoCal year-round. This light melt-in-your-mouth shortbread provides the perfect backdrop for the sweet orange curd filling. Note: You may substitute Lemon, or Lime, for the Orange in this recipe.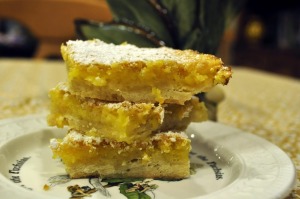 Preheat the oven to 350 degrees.
For the Shortbread Crust
In the bowl of a stand mixer, blend:
3/4 cup Butter
1/4 cup Powdered Sugar
1 3/4 Flour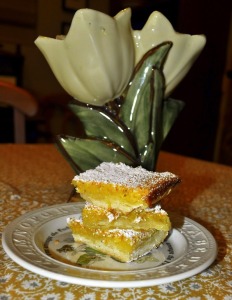 Run mixer on low speed until ingredients start to blend, then turn up to medium speed for about 4 minutes until coarse crumbs form.
Press pastry dough evenly into the bottom of a 9 x 13-inch pan.
Bake for 12 minutes to set.
Remove from oven and allow to cool slightly while mixing filling.
For the Orange Filling
In a medium bowl, whisk:
1 1/3 cups Granulated Sugar
3 Eggs
2 Tablespoons finely grated Orange Zest
1/2 cup freshly squeezed Orange Juice
1/3 cup Flour
1/2 teaspoon Baking Powder
Be sure to break up any balls of flour as best as you can.
Pour Orange Filling into cooled Shortbread Crust and return pan to oven for 25 minutes.
Allow bars to cool until set.
Sprinkle with Powdered Sugar.
Cut into 20 bars.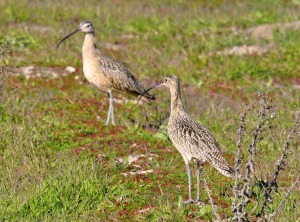 Curlews in the field behind our house – driven off the beach by high winds
These recipes are provided for your personal use. If you publish them, or re-post them, please give me credit. Grazie e Buon Appetito!