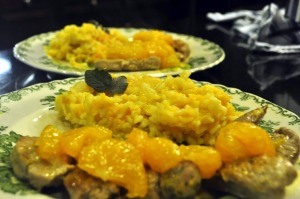 This week's French Fridays with Dorie challenge is for Fresh Orange Pork Tenderloin. After a string of odd and so-so recipes, we really wanted to like this dish. We've learned so many wonderful techniques for cooking meats that we thought this would surely be another.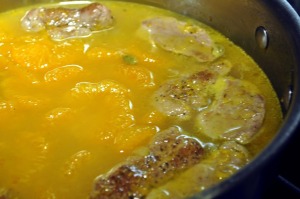 Salvaged sauce simmering with pork and mandarin oranges


After all the labor of peeling and sectioning the oranges, it was disappointing to taste the sauce and find it lacking. At first taste, it reminded me of how some restaurants put out lemons for tea that have been cut with the same knife and on the same cutting board as onions. It was just plain weird.





First, I asked John to sprinkle in a scant teaspoon of sugar which helped only minutely. So, he resolved to strain the orange pulp, onion, and cardamom seeds out, reserving the sauce. Then, he returned the sauce to the pan, added the juice from a small can of mandarin oranges and a Tablespoon of arrowroot to it. After stirring over low heat for a bit, the sauce began to thicken and John returned the pork to the pan with the reserved mandarin oranges. In the end, our dinner was saved and the pork was very tender. However, this is not a recipe we will make again.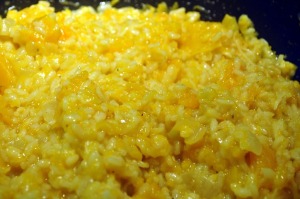 Butternut Squash Risotto

Since we had butternut squash left from last week, I made Butternut Squash Risotto that was based on this recipe I made for Le Creuset cooking demonstration but we left off the pecans and prosciutto and added Parmesan cheese. (Yes, Mary, I know this is an all-orange dinner! LOL!)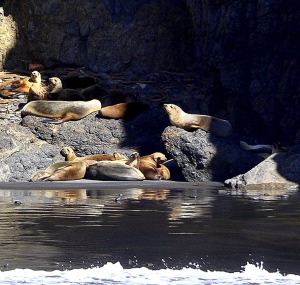 California Sealions basking in the sun on Anacapa Island
These recipes are provided for your personal use. If you publish them, or re-post them, please give me credit. Grazie e Buon Appetito!